Jen Shroder
Of Supreme Court justices and gay manifestos in public school

By
Jen Shroder
October 4, 2012
"All laws banning homosexual activity will be revoked. Instead, legislation shall be passed which engenders love between men."
— Michael Swift,
"Gay Revolutionary"
California is now instituting laws prohibiting a therapist from counseling a child confused by same sex attractions. Parents are unable to legally find help. But a teacher can arrange for the child to be taken off campus to see a counselor without parental permission, a counselor that would encourage that child to experiment with homosexuality. (SB 543, SB 1172)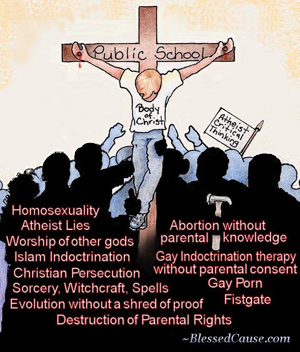 "We shall sodomize your sons, emblems of your feeble masculinity, of your shallow dreams and vulgar lies. We shall seduce them in your schools..."
— Michael Swift,
"Gay Revolutionary"
Brad Dacus of Pacific Justice Institute said, "This outrageous bill makes no exceptions for young victims of sexual abuse who are plagued with unwanted same-sex attraction, nor does it respect the consciences of mental health professionals who work in a church."
How did we fall to this level so fast? The Los Angeles Unified School District began recommending gay porn to students even before the Supreme Court of the United States ruled on sodomy laws in Lawrence v. Texas. On the LAUSD's list of recommended reading was "Young, Gay & Proud" which gives explicit details of anal intercourse and after profane tips, advises, "You may have to practice a bit before it starts feeling really good." Parents won't even speak of many of the things that children are being taught.
In Massachusetts, students as young as 12 were instructed in a conference on how to "fist" by state employees. Included in the lesson were homosexual oral sex techniques, inserting one's entire hand in someone else's rectum, sado-masochism techniques, girls using "dildos" and rubbing their sex organs together for pleasure, and much more. Parents were outraged. The conference was
defended
by Kevin Jennings of GLSEN who was later appointed by Pres. Obama to run the Office of SAFE & Drug Free Schools in the US Department of Education!
"We will unmask the powerful homosexuals who masquerade as heterosexuals. You will be shocked and frightened when you find that your presidents and their sons, your industrialists, your senators, your mayors, your generals, your athletes, your film stars, your television personalities, your civic leaders, your priests are not the safe, familiar, bourgeois, heterosexual figures you assumed them to be."
— Michael Swift,
"Gay Revolutionary"
California's SB48 requires "instruction in social sciences to include a study of the role and contributions of lesbian, gay, bisexual, and transgender Americans." Did we really need to drag the private lives of homosexuals into the classroom to be applauded and held up as the ideal? Was that the intention of the Supreme Court of the United States when they ruled in Lawrence v. Texas? I believe the Justices meant to defend what a man does in his own home is his own business, but now we must drag it out and demand our children learn what he practices, consider it for themselves and applaud?
Fact: Homosexuality, anal intercourse, countless sexual practices are not healthy and spread disease much more effectively than the norm. This indoctrination, this destruction of parental rights, the arrogance of the academic elite insisting that they know better than we do about what is best for our children is complete and total garbage. Gay militants have made it clear, to validate gay marriage is to indoctrinate these practices to our children as well as cause pastors to step down because they must refuse to perform marriages that are clearly contrary to what God said. Countless businesses are also at risk because lawsuits are filed if a photographer, caterer or tradesman would rather not earn their living by providing services for what God condemns.
"We shall be victorious because we are fueled with the ferocious bitterness of the oppressed who have been forced to play seemingly bit parts in your dumb, heterosexual shows throughout the ages. We too are capable of firing guns and manning the barricades of the ultimate revolution. Tremble, hetero swine, when we appear before you without our masks."
— Michael Swift,
"Gay Revolutionary"
Two days ago, the U.S. Supreme Court rejected an appeal filed by the National Organization for Marriage to stop the release of donors' names in Maine who contributed to stop same-sex marriage. The ruling is disheartening because violence is a very real threat. Riot police were called out all over California because of Proposition 8 upholding traditional marriage, Family Resource Center was attacked because the whole nation showed their support for Chick-fil-a, but none of that matters, no risk is too great when one considers the depths of depravity and brain-filthing that is happening to our children in public schools. We can no longer send our children to be educated by wolves without making noise and doing what we can to protect our children, no matter the cost.
So it all comes down to the United States Supreme Court and the many decisions about to be handed down. Will they follow the gay manifesto or not? This session may either sustain or destroy the very fabric of this nation. But whatever happens, beloved, just hold on. Do everything you can to protect your children but remember one thing: your children have angels that always behold the face of our Father in heaven. The Justices, the teachers, the militant homosexuals...if they cause even one of our children to stumble, it would be better for them if a millstone was hung around their neck and they were cast into the sea. God takes the welfare of our children with all seriousness. Instead of anger, we should pity those who feed on our children. It's almost impossible, I know, but if we really understood the power of God and the intensity of His heart toward our little ones...
Pray for our children but also, pray for wisdom and strength for our Justices. I think they sincerely have the most to gain, or lose, of all.
Source:
http://www.wnd.com/2012/10/look-whos-suing-over-gay-cure-ban/?cat_orig=faith
http://www.massresistance.org/docs/issues/fistgate/index.html
Related:
One Million Moms, Ellen DeGeneres, the Gay Manifesto and Prop 8
Feeling the Hate of Prop 8
http://www.renewamerica.com/columns/shroder/081220
Prop 8 justice: The people are too stupid to vote
http://www.renewamerica.com/columns/shroder/090305
Lawmakers 'sanction' use of district-approved 'porn'
http://www.wnd.com/2002/01/12515/
The Rape of California
Michael Swift's Gay Manifesto
© Jen Shroder
---
The views expressed by RenewAmerica columnists are their own and do not necessarily reflect the position of RenewAmerica or its affiliates.
---