Louie Verrecchio
Of patriarchs and pansies: The war against manliness

By
Louie Verrecchio
June 7, 2023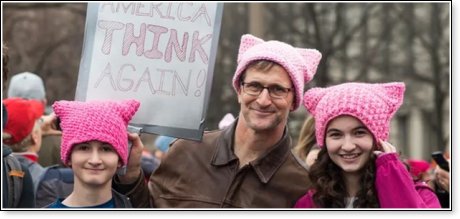 An assault against masculinity is well underway. Take a look around, its effects are obvious, going well beyond the drag queens and the fairies that litter the headlines.
An inordinate number of young adult males today are waifish and skeletal, with all of the strength and musculature of an underfed grade schooler. This is the video game, anime, skinny jeans generation. Many of their peers are equally as weak but, being among the overfed, they are marshmallow soft and blubbery, the lot of them uninspired, unassertive, and palpably feminized.
Their fathers in many cases aren't much better off. Most by middle age are sloppily fat, prematurely achy, and perpetually out of breath, with neither the energy nor the inclination to assert themselves in a way that might threaten the family peace, even if only temporarily. Others, though physically fit by comparison, are likewise spineless wafflers who dare not make a meaningful decision without spousal approval. These are the sort that are not embarrassed to say, "Happy wife, happy life."
In other words, an increasing number of men today seem to be lacking in even basic manliness, both in appearance and in action.
As Sacred Scripture attests, although the present deficit of manliness appears to be accelerating, the problem itself is not entirely new.
Take, for example, the story of the Patriarchs – Abraham, Isaac and Jacob – men whom the Church considers saints, but who also occasionally demonstrated stunning lapses in manfulness.
Abram (later, called Abraham) was called by God out of Ur to the land of Canaan. "To thy seed will I give this land," God promised him, and this despite the fact that his wife, Sarai (later, Sarah), was barren.
When famine struck, Abram sojourned to Egypt where he urged Sarai to pretend that she was his sister. Why? Because she was beautiful, and he feared that the Egyptians would kill him and take her to themselves.
Rather than risking his life for her sake – a man's duty – he used her as a shield, even going so far as to prostitute her in order to save his own hide. Sure enough, the plan worked. Pharoah ended up taking Sarai into his house, believing her to be fair game.
"And they used Abram well for Sarai's sake. And he had sheep and oxen and he asses, and men servants, and maid servants, and she asses, and camels." (Gen 12:16)
And thus, not only did Abram protect and enrich himself, his weakness and deceptiveness invited the wrath of God upon Pharoah's house.
"But the Lord scourged Pharao and his house with most grievous stripes for Sarai, Abram's wife." (Gen.12:17)
Lesson learned? Not yet.
This same weakness and lack of manly concern for his wife reared its ugly head years later as Abram once again urged Sarai to claim that she was his sister, this time, in a place called Gerara. (Gen. 20)
There, the king, Abimelech, took Sarai into his house believing she was unwed. God, however, warned the king in a dream that Sarai was the wife of Abram, and that he would die if he should touch her. Thus was Sarai, and Abimelech, spared the consequences of Abram's weakness.
Oddly enough, this took place even after Abram had demonstrated great courage as he rescued his nephew Lot and his household when they were taken captive by an act of war. In other words, one sees that he wasn't entirely lacking in masculinity.
Bear in mind as well that Abram was not without faith. Years earlier, one may recall, when God bid Abram to "number the stars if you're able," promising him that his seed shall be just so numerous, the Scriptures tell us, "Abram believed God, and it was reputed to him unto justice." (Gen. 15:6)
Abram was on a journey with God. We know that he grew in virtue and in trust for Him over time, even to the point where he would one day consent to sacrificing his only beloved son, Isaac.
As the story of the Patriarchs continues, we find that the unmanliness that infected Abram earlier in his life was, as it were, passed on to his son.
Isaac, it seems, was something of a mama's boy. The Scriptures indicate that when his mother, Sarah, died, Isaac, then thirty-seven years old, mourned her passing for a full three years. One gets the sense that he was withdrawn with grief. Perhaps it is unfair to say, but three years of intense mourning seems rather excessive, does it not?
In any event, it was only after Abraham took steps to find a wife for his grieving son that Isaac finally emerged from his mourning.
At the age of forty, Isaac took Rebecca as his wife. She, like Sarai, was barren, but Isaac beseeched the Lord on her behalf, and she conceived twins, Jacob and Esau.
This, however, isn't the only instance wherein we find Abraham's history repeating itself in the life of Isaac.
Years after Isaac married, famine once again struck. The Lord appeared to him, instructing him to "stay in the land that I shall tell thee." God told Isaac that, there, "I will be with thee and will bless thee." (Gen. 26)
Once in the land, the men of that place inquired concerning Rebecca. Isaac, like his father before him, answered, saying, "She is my sister." At this point, if one reads the narrative chronologically, Rebecca is not only Isaac's wife, she is the mother of his children, and yet he abandons her to the king's passions!
The king (also named Abimelech), having discovered that Isaac had lied, asked him why he would do such a thing.
Isaac gave answer: "I feared lest I should die for her sake."
Like a hereditary disease, it appears, the inclination to unmanliness had been passed on to the next generation. Would it likewise be passed on to the next generation as well?
The short answer is yes.
Of the twin sons of Isaac and Rebecca, the Scriptures tell us:
"Esau became a skillful hunter, and a husbandman: but Jacob, a plain man, dwelt in tents. Isaac loved Esau, because he ate of his hunting: and Rebecca loved Jacob." (Gen 25:27-28)
We are also told that Esau was hairy and smelled of the fields, while Jacob was smooth and presumably had a fragrance more similar to that of his mother (Gen. 27). In pondering this description, one is hard pressed not to conclude that Jacob was, at least as a younger man, soft, none too weak, and maybe even a bit effeminate.
In other words, Jacob was perhaps even more of a mama's boy than his father had been. Not only was he a homebody who preferred cooking to hunting and gathering, he was eventually taken under his mother's wings and taught in the ways of conniving as she plotted a scheme that would allow him to steal his brother's blessing.
Rebecca's willingness to deceive Isaac strongly suggests that he failed to command the respect of his wife. Furthermore, it would seem that he passively allowed Rebecca to make of Jacob her special little boy. How often do we see a similar dynamic in families today, whereby weak men consent to their sons becoming mommy's apprentice?
Jumping ahead in the story, when Jacob, his wives, Lia and Rachel, their handmaids and all of their children came to Salem, Dina, Jacob's daughter, was raped by the prince. When Jacob was told about what had happened, and that the prince wanted to take Dina as his wife, "he held his peace." (Gen. 34:4)
Her brothers, Simeon and Levi, however, were "exceedingly angry" and "enraged at the deflowering of their sister." (Gen. 34:7,13)
Imagine, a father discovering that his daughter had been raped holding his peace!
It gets worse.
Simeon and Levi plotted to avenge their sister's honor, ultimately slaying every man in that place. It was only then that Jacob grew angry, not at the rapist mind you, but at his sons, saying to them:
"You have troubled me, and made me hateful to the Canaanites and Pherezites, the inhabitants of this land. We are few: they will gather themselves together and kill me; and both I, and my house shall be destroyed." (Gen 34:30)
Once again, like Abram and Isaac before him, Jacob's primary concern was the preservation of his own life and his own comfort. Simeon and Levi, however, answered their father incredulously, saying, "Should they abuse our sister as a strumpet?"
Now, you tell me, who behaved more manfully in response to the rape of Dina, Jacob or his sons?
According to commentary provided by the USCCB, Dina's brothers are to be blamed for bringing "danger to the family from narrow self-interest."
Welcome to the age of feminization!
As we conclude this brief retelling of the lives of the Patriarchs, I can well imagine some persons thinking: Abraham, Isaac, and Jacob were so blessed! God spoke intimately and freely with them! How I wish to be granted such a grace!
Before we presume to judge the Patriarchs too harshly, however, consider that we have something far greater than they could ever imagine, namely, the Church of Christ and her Sacraments, among which are Baptism and Holy Communion. Our relationship with the Almighty, therefore, is far more intimate than that which was afforded to the Patriarchs, men who were deprived of sanctifying grace thanks to the sin of Adam.
In fact, if we revisit the biblical account of the fall, we will find that the assault on masculinity began all the way back in the Garden of Eden, i.e., the mastermind behind the attack is none other than Satan himself.
For example, one notes that the serpent chose to approach Eve rather than Adam.
Was this because he believed her to be the weaker?
Perhaps we cannot know for certain, but I tend to imagine that the reason is because God had established a certain order, placing Adam in charge of the garden, even giving him dominion over the animals. As such, Satan was keen to subvert this ordering, i.e., to approach the head of the family, Adam, would be too close to playing by God's rules.
As for Adam being the stronger of the two, where was he when the serpent (better understood as a leviathan, threatening in appearance) began coaxing his wife to disobey God?
It is surmised by many that Adam was present right there, weak, silent, and afraid.
Rather than step in to protect Eve, he allowed the serpent to engage his wife utterly unopposed. Bear in mind, Adam needn't necessarily wrestle with the beast himself. All he had to do was call upon God, the Creator with whom he enjoyed friendship.
After they both ate of the forbidden fruit, one notes that God convicts Adam not only for disobeying His one command, but first and foremost for "hearkening to the voice of thy wife," i.e., Adam had failed as a man, as a husband, as the head of his family.
What is the common thread that binds each one of these instances wherein men who communed with God – Adam, Abraham, Isaac, and Jacob – failed so miserably to assert their manliness?
A failure of trust in God, to believe His promises, and to abide by His decrees.
In our day, the failure to believe in and to hear the one true God, much less trust in Him, is epidemic. I refer here to the Blessed Trinity, the second Person of Whom was incarnate of the Virgin Mary and became man, died for our sins, rose on the third day, and established the Holy Roman Catholic Church to preach in His name, to rule on His behalf, and to continue the work of redemption.
To be clear, of those who fail to hear, to believe, and to trust in God, I have in mind not only pagans and atheists, but also Jews, Muslims, and heretics of every stripe, as well as all who claim fealty to a god that is truly nothing more than a construct of their own disordered desires, e.g., the god who approves of abortion, the god who made homo-deviants as they are and blesses their abominable acts, the god who created an ever growing number of genders, the god whose laws are too difficult to keep and who sometimes even wills that men persist in adultery (aka the God of Surprises invented by Jorge Bergoglio & Co.), etc.
And just as at Eden, the mastermind behind the epidemic is Satan, he who managed to establish a counterfeit church so convincing and so sinfully appealing that the greater number of men on earth believe it to be the Holy Roman Catholic Church. As such, the voice of God which ever resonates in the one true Church of Christ is presently being drowned out, her countenance eclipsed.
She is, however, still visible, if only we strive to see her. Likewise, her voice can still be heard, if only we strive to listen. This, my friends, is the only remedy to the deficit of manliness in our world, and indeed all of the problems that stem therefrom, which are far too numerous to count.
Finding the visible Church and hearing her voice in our day takes effort, indeed, but know this:
The first step is recognizing and acting upon – regardless of cost – the undeniable fact that the conciliar counterfeit church in Rome is a repository of lies and deception, with Jorge Bergoglio, its current head, dutifully serving as a mouthpiece for the Evil One, dispensing the poisonous food of error to the unwitting under the guise of good food.
© Louie Verrecchio
---
The views expressed by RenewAmerica columnists are their own and do not necessarily reflect the position of RenewAmerica or its affiliates.
---