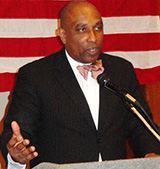 Ellis Washington
Takedown: how the left has sabotaged family and marriage

By
Ellis Washington
June 26, 2015
Totalitarian movements that envisioned nothing less than the transformation of human nature were inspired by that book [Karl Marx's Communist Manifesto].
~ Dr. Paul Kengor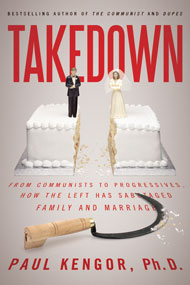 My friend and colleague, Dr. Paul Kengor, has just written another blockbuster, must-read book,
Takedown: From the Communists to Progressives, How the Left has Sabotaged Family and Marriage
(WND Books, 2015). Kengor is a bestselling author whose works include
11 Principles of a Reagan Conservative; The Crusader: Ronald Reagan and the Fall of Communism; and The Communist: Frank Marshall Davis: the Untold Story of Barack Obama's Mentor.
In
Takedown
Kengor exposes these origins, starting with Karl Marx, and traces them through the sordid history of people like Karl Marx, Max Weber, Sigmund Freud, Margaret Sanger, Wilhelm Reich, Herbert Marcuse, Havelock Ellis and assorted '60s radicals. What were once fringe, radical and discredited ideas have become accepted by mainstream thought and are today welcomed by many legislators, judges intellectuals, Christians and Millennials.
Kengor notes how in the not-so-distant past, today's leftists who are attacking traditional marriage or tried to implement a Socialist healthcare system like that in Soviet Russia would have loudly raised their voices but not caused any real damage. They would have been dismissed with no serious concern as left-wing cranks, crackpot German and Austrian atheistic philosophers and campus agitators. But now, with formal legalization of same-sex marriage afoot, and through Obamacare, government now having the power to mandate through our healthcare system who lives and who dies and when, they are getting what they've wanted for generations: the literal redefinition [destruction] of the family.
Kengor begins his book with a quote by Karl Marx, one of the most wicked men in history, yet a revered figure of the political Left today who is the Father of Communism and Socialism. Marx wrote, "Abolition of the family! Even the most radical flare up at this infamous proposal of the Communists." Kengor states that rebellion is nothing new to the Left who since the mid-1800s after Marx's 1848 publication of his declaration of war against Judeo-Christian traditions and institutions he called
The Communist Manifesto
, made the abolition of the family is primary goal. "The particular component of the extreme left – the communist left – Kengor wrote, "was devoutly atheistic in its orientation, ambition, and mission. It rebelled against God, a rebellion against the Creator that was central to its new direction and fundamental transformation."
Freud, Marx and the Rise of the Frankfurt School
From a historical, political and philosophical explanation regarding how society has devolved to such an abysmal degree just since the election of President Barack Obama in 2009 – Socialized medicine in all 50 states, same-sex marriage in all 50 states, the militant application of the LGBT agenda, transgenderism, transracialism, etc... This is just the beginning of a comprehensive and cataclysmic restructuring of society I call the Progressive Revolution. I found that the most important chapter of Kengor's book was chapter 10: "Cultural Marxism and the Frankfurt School." Kengor's brilliant historical narrative skillfully explains that the adherents of the Frankfurt School intended to advance a theory of society that was based on Marxism and Hegelian dialectical philosophy yet which also exploited and synthesized the theories of Freud's psychoanalysis, Max Weber's sociology, Heidegger and Sartre's existential philosophy, and other radical and perverted philosophies using a relativistic, evolution and atheistic paradigm. They applied general Marxist concepts to examine the social institutions within free market economies. This method, called "Critical Theory," produced respected and wide-spread criticisms of large corporations and multi-national monopolies, the industrialization of culture, the role of technology, and the degeneration of the individual within capitalist society. In their well-publicized academic work,
Zeitschrift für Sozialforschung
or Journal for Social Research, fascism and authoritarianism became synonymous with Capitalism and a Christian worldview.
After Adolf Hitler's accession to power in Germany (January, 1933), most of the institute's academics fled the country, and many found sanctuary in the America. From 1933-49, The Institute for Social Research eventually became connected with Columbia University after which time it relocated back to Frankfurt. In the 1950s the Critical Theory scholars of the Frankfurt School separated in different intellectual paths. Many of them (at least in a rhetorical sense) recanted orthodox Marxism, however they continued to be severe critics of capitalism. The school's primary intellectuals endeavored to learn from and synthesize the works of such wide-ranging philosophers as Kant, Hegel, Marx, Freud, Weber and Lukács, Kengor would write.
The major intent of the Frankfurt School of Critical Theory was to establish a Marxist utopia throughout the world. However, they were worried about the conditions that permitted social change and the formation of rational institutions based on a Judeo-Christian worldview. They demanded from society both a Social and a Socialist Revolution. Their emphasis on the "Critical" aspect of Theory was derivative in many important respects from their efforts to get past the restrictions of relativism, determinism, positivism, and materialism, by returning to Kant's critical philosophy and its other incarnations in German idealism and dialectical philosophy of Hegel's theories, and its underlying deconstruction of all religion, objective notions of truth and the basic assumptions of human reality.
Kengor cites Ralph de Toledano as a very prominent conservative intellectual and one of the original founding editors of William Buckley's
National Review
. He wrote a book regarding his longtime correspondence with Whittaker Chambers titled
Notes from the Underground: The Chambers-Toledano Letters
. In that book, Kengor writes,
Toledano, more than any writer who lived beyond the period, took great care to detail the deleterious effect of the Frankfurt School... The Frankfurt School unraveled upon society, especially through its adherents at American universities, but also in the media, Hollywood, publishing, the theater, the arts, and whatever other cultural conveyor belt was at its disposal. These Freudian-Marxists, he wrote, realized that sex could be a devastating instrument if permitted to run rampant, "and so they advocated the elimination of all sexual restraints along with the destruction of the family, religion, and 'bourgeois' morality. . . . All the guidelines that society had laid down to make sexuality an orderly part of existence were condemned as horrendous capitalist depravity."... Marxist-communist fundamental transformation of society would ultimately come not through economic changes – which were dismally failing to produce their goals and win converts – but through vast cultural-sexual changes directly relating to family and married life. That was all yet to come.

Epilogue: Fabian Socialism (Gradualism)
Kengor sets a comprehensive and compelling historical paradigm of how America (and Western Civilization for that matter) devolved from Jefferson's lofty rhetoric in the Declaration of Independence worldview of the "law of Nature and of Nature's God" to a reactionary, immoral society accepting the radical, depraved idea of same-sex marriage, transgenderism, transracialism and the tenants of the LGBT agenda. Nevertheless, this existential battle between Good and Evil existed in Heaven, long before the world was ever created. Kengor writes, "Generally speaking, such rebellion is not new at all; it is as old as the Old Testament, even as communists had a new, perverse rebellion in mind. The revolt against God is an ancient battle that circles back to the Garden of Eden," Kengor writes "where a sinister force first tried to separate man and woman from the will of Divine Providence and tear asunder the male-female union that the Creator had ordained. Fortunately for the long scope and history of humanity, better angels prevailed, as did natural law and common sense, all of which, by practice and experience, enabled civilization to hold the bonds of matrimony and the traditional family together."
This historical paradigm is derivative of what the Italian Marxist academic Antonio Gramsci implied in his writing theorizing about the triumph of Communism eventually over every aspect of society, especially religion and the family as "the Long March Through the Institutions." This is Fabian Socialism or Gradualism which in modern times goes back to the publication of Karl Marx's
Communist Manifesto
(1848). Gramsci and other Fabian Socialist and Marxist academics generally take the long-view of history to thoroughly and irrevocably deconstruct or destroy every conceivable aspect of the Judeo-Christian traditions and related institutions and upon the ashes erect a world-wide, universal Socialist utopia under the tactics and strategies of Cultural Marxism which in a previous essay I did on the Magna Carta I defined Cultural Marxism in this manner – "...the continuing process of abolishing all religions, traditions, governments, individuality, borders, languages, cultures, family, law and reality in order to restructure society in the future as a Communist utopia. This utopia will have no concept of God, morality, gender, traditions, or even family. The only reality allowed will be the omnipotent State. The Father of modern liberal fascism, Benito Mussolini famously said in a 1925 speech –
Everything inside the State. Nothing outside the State. Nothing against the State
."
In conclusion, Kengor passionately and convincingly argues that by allowing the political Left to set the agenda for society and to establish their perverted paradigms which are anti-theatrical to America's Judeo-Christian traditions and institutions, "We are witnessing a watershed moment in American cultural history: the sabotaging of family and marriage. Extreme-left radicals have made their arguments and tried different tactics, from the early nineteenth century to the sexual revolution of the 1960s, but at long last they have the vehicle to make it happen: gay marriage," as the publisher's notes on Kengor's revelatory book. "Now, as the legal definition of marriage rapidly changes, the floodgates are open, and the fundamental transformation of the American family will take on new speed and new dimensions. Efforts to redefine the family structure have been long at work, and there have been some influential forces on the far left and communist left that cannot and should not be ignored in that process," the publisher contends.
Hiding behind a rogues gallery of pseudo-intellectuals most notably Marx, Freud, and the Frankfurt School,
Takedown
uncovers how same-sex marriage, transsexualism, transracialism and the radical, nihilist LGBT Agenda, is collectively serving as a Trojan horse for the Democrat Socialist Party to provoke the final destruction or 'takedown' of the family, marriage, morality and the vestiges of America's Judeo-Christian traditions and institutions that in modern times this atheist revolution dates back to the anti-Christian genocide of the French Revolution (1789-99) with Rousseau, Robespierre and the Jacobins.
These Cultural Marxists of the Left have coveted so badly, waited for so long for the deconstruction of America, yet hundreds of millions of everyday Americans and billions across the world are virtually ignorant to the profound, cataclysmic and evil forces working in the shadows to secure their destruction, most shamefully Jews and Christians who should know better. Dr. Kengor's essential book,
Takedown
takes no prisoners and honestly demonstrates to the reader that even Karl Marx and his more anti-marriage comrade Engels would be astonished at the mere thought that modern Americans would so eagerly cast off 6,000 years of biblical morality and biblical history establishing the intellectual foundations of civilization, to so freely and willingly make a Faustian bargain with the devil against God's enteral love symbolized in mankind's oldest and most sacred moral institutions – natural marriage and the family.
---
Book Notice
Please purchase my latest opus dedicated to that Conservative Colossus, Supreme Court Justice Clarence Thomas. Here are the latest two new volumes from my ongoing historical series –
THE PROGRESSIVE REVOLUTION: History of Liberal Fascism through the Ages
(University Press of America, 2015):
Please circulate
this flyer
to all your email contacts & Facebook/Twitter followers who may be interested in purchasing this opus which will serve as a ready apologetic against the rampant Marxist-Progressive propaganda taught in America's public schools, colleges, universities, graduate schools, and law schools. Thanks in advance to all my friends, associates and colleagues for your invaluable support! Law and History Blog:
www.EllisWashingtonReport.com
---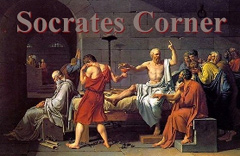 Invitation for manuscripts
I am starting a new a program on
my blog
dedicated to giving young conservatives (ages 14-35) a regular place to display and publish their ideas called
Socrates Corner.
If you know of any young person who wants to publish their ideas on any subject, have them send their essay manuscripts to my email at ewashington@wnd.com.
© Ellis Washington
---
The views expressed by RenewAmerica columnists are their own and do not necessarily reflect the position of RenewAmerica or its affiliates.
---