Stone Washington
Detroit's dynamic Republican debate

By
Stone Washington
March 9, 2016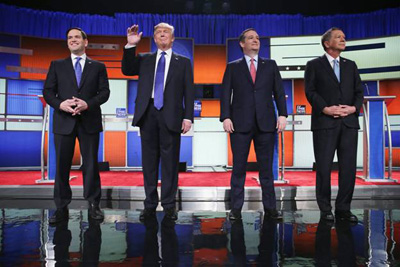 GOP Candidates at the Fox Theatre, Detroit, Michigan
The 11th Republican National Debate occurred at the historic Fox Theatre in Detroit, Michigan last Thursday, March 3rd, 9:00-11:00 pm and was sponsored by Fox News. I was part of the press pool housed inside the Hockeytown Cafe next door to the Fox Theatre with my colleague Brian Belesky (representing Salem Broadcasting's WDTKam 1400 and Joshua's Trial Radio Show).
After the debate we members of the press core were ushered into the 'Spin Room' which was the grand foyer of the Fox Theatre. There we got to meet and greet the four Republican candidates.
The Republican debate broke new records for attendance and received over 21,000 ticket requests. However, they were only able to give out 50 tickets to the general public. The Fox Theatre typically seats 5,000 people, but accommodated far fewer on debate night due to the many television sets, media entities, and staff filling the venue.
Like the previous Fox News debates, the moderators were Chris Wallace, Megyn Kelly, and Bret Baier. On the day of the debate, former Republican candidate and retired neurosurgeon
Ben Carson
, declined to attend the event and officially dropped out of the race at the CPAC event, Sat., March 5th.
The debate focused heavily on key issues facing the nation including – the ongoing war in Syria, Iraq, and throughout the Middle East, combating ISIS, addressing illegal immigration, defending the Second Amendment, and fixing the economy.
Throughout the debate Republican front runner Donald Trump was very aggressive in defending against many attacks from his two primary contenders – Ted Cruz and Marco Rubio, who tried to score political points regarding Trump's alleged mismanagement of Trump University. After many back and forth assaults, Trump repeatedly concluded,
"Let's see what happens in court."
Trump was strong on his stance for interrogation concerning terrorism stating,
"We should go for waterboarding & we should go tougher than waterboarding."
Rubio often attacked Trump's position on trade, speaking against hiring illegal immigrants for cheap labor by employing American workers. Rubio spoke,
"You argue you're here to fight on behalf of the American worker, but when you have chances to help the American workers you're making your clothes overseas, and you're hiring your workers from overseas."
Trump rebuked Rubio counter attacking with statements such as,
"This little guy has lied so much about my record."
Trump often jokingly called the Senator
"Little Marco."
Donald Trump clashing with Marco Rubio
Senator Ted Cruz took couple of shots at the billionaire's questionable past with funding various liberal politicians,
"If you don't like Obamacare, Donald Trump funded Harry Reid and Nancy Pelosi."
Cruz continued,
"Donald Trump has written checks to Hillary Clinton not once, not twice, not three, not four times, but 10 times."
Trump responded that it was merely business and repeatedly said before that as a businessman he sent checks to all kinds of people in government roles, including Senator Cruz himself.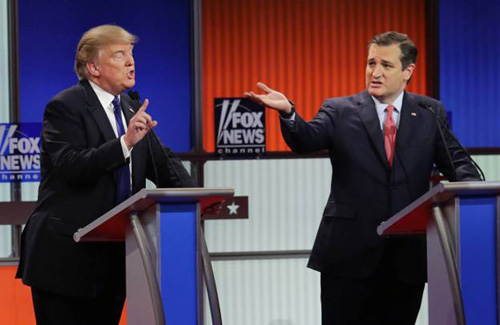 Ted Cruz accusing Donald Trump
Cruz was questioned about his statement to abolish the IRS, to which the Senator spoke,
"Under Obama, the IRS has become so corrupt & so politicized we need to abolish it altogether."
Ted Cruz also spoke on the troubled condition of the city of Detroit,
"Detroit is a great city with a magnificent legacy that has been utterly decimated by 60 years of failed left-wing policy."
Similar to previous debates Governor John Kasich tended to stay out of the bickering between the senators and business mogul, taking pride in his maturity,
"People say wherever I go, you seem to be the adult on the stage,"
Kasich said proudly. The governor was very optimistic about his chances of winning the most delegates for his state of Ohio in the upcoming Republican primary elections,
"Guess what, it's now March Madness and we are heading up north to the place, to my turf, okay?"
Kasich continued.
"I will win Ohio."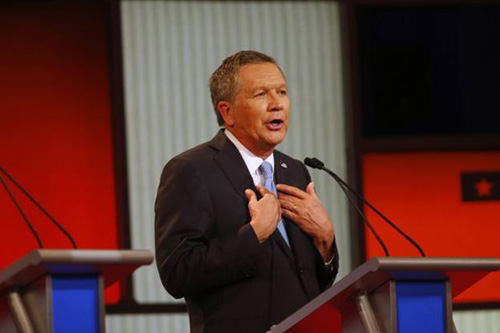 Governor John Kasich speaks on his work as Governor of Ohio
The debate lasted from 9-11 PM.
Behind the scenes in the Spin-Room
After the debate, I joined dozens of reporters from various news entities quickly filled the Fox Theatre awaiting the entrance of the four Republican candidates for an exclusive questioning session. Shortly after the closing remarks at 11 PM, each candidate was expected to make their way through this room, known as the spin-room; but this was not exactly the case. Reportedly Donald Trump and Gov. John Kasich were the only candidates to enter into the spin-room for post-debate questioning. It was widely rumored that Senators Ted Cruz and Marco Rubio tended to always avoid the media after the debates, as the two were absent the entire session. In their places were multiple advisors handling questions. Despite the Senators' absence, virtually all of the attention was focused upon front-runner Donald Trump. The billionaire answered many questions from various news outlets including reporters from Fox and CNN. The following are many key statements and quotes from the business mogul during the session,
Following a questionnaire session with CNN reporter
Dana Bash
Trump spoke:
"You see, this is the problem with politicians; they're all talk,"
Trump said concerning a question on Senators Rubio and Cruz.
Concerning Cruz's performance in the debate Trump said,
"I thought he was fantastic, but I'm beating him by so much."
Concerning a question about Trump's explanation of key issues in comparison to Cruz, Trump said,
"No I think I explained it very well. I thought in every single poll, I beat him by a lot. By 7 states, which is a lot. No I think I answered every single question."
On a follow-up question concerning a moderator's questioning of Trump's often differing views of Conservatism versus the Establishment, Trump spoke,
"You should be flexible. I explained that to him very well tonight, you have to be flexible. You have to have super flexibility. If you don't then it's going to be a problem. You know you have people, I know people all over my life; I've known people with so many flexes, but they don't know it."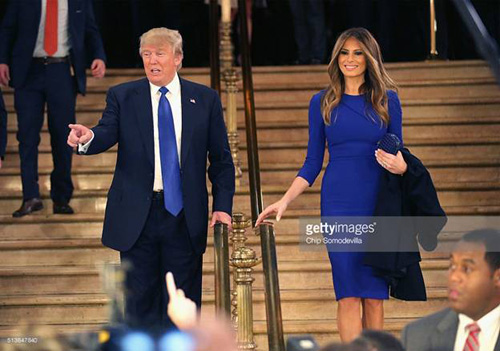 Donald and Melania Trump inside Detroit's Fox Theatre
Trump continued,
"Now with that being said you wanna make great deals, not average deals, but there's nothing wrong with having some flexibility."
Trump also addressed a question on the possibility of him enlarging his proposed wall around the nation's southern border with Mexico,
"I might make it tougher, to be honest with you. It could be tougher, it's pretty tough. I might make it even tougher. That's also flexibility. The wall is going to come. The wall is going to happen and Mexico is going to pay for the wall. And just like you say anything, you're going to bank on it."
Regarding Rubio's attack on the size of Trump's hands in the last debate, Trump discussed his view of the insult and whether the way he handled it was a good moment in the debate,
"I have very powerful hands, no look at these hands, aren't they beautiful? I have very powerful hands, large hands, and a politician said I didn't have large hands. That's the first time anyone ever said that one. So no I think it was a very good moment."
His wife, Melania Trump added,
"It was a great moment. No it was fine, he was attacked. Marco Rubio attacked him and he responded."
Trump responded to Melania's comment by stating,
"This of course is beautiful. When you're being attacked from five different angles by big different people. Especially when he said the tid-bit. But I actually thought I was really happy with the results, very happy what with the online polls, vaguely the highest numbers I've had so far."
On a question surrounding
Mitt Romney's negative speech
toward Trump's campaign spoken hours before the 11th debate, Trump replied,
"He's a failed candidate. He failed horribly. It's an election and he should have won. He chocked, pure and simple. When a person chokes once, they choke, they always choke. Marco choked, that means he's going to choke. When Chris Christie was grilling him, it was a total choke. When Mitt Romney got the nomination I don't know what happened, he just choked like a dog. And he knows I know it. And I said it to him very loud and clear, I was very unhappy."
On a question concerning how Trump felt about the night's debate, Trump replied,
"I thought it was going to be tough. I thought it was going to be a little bit more violent. I really thought it was not as tough as I thought I'd be. But I enjoyed it, it was good, it was great."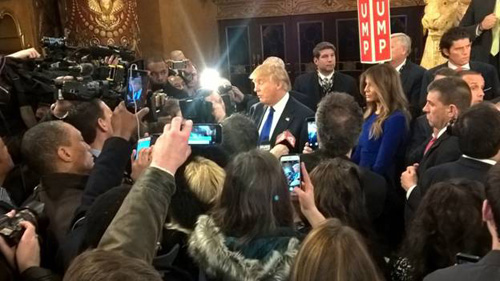 Donald Trump inside the spin-room
It was reported after the debate that the other three remaining Republican contenders promised they would in fact support Mr. Trump if he was the eventual nominee come November 2016.
© Stone Washington
---
The views expressed by RenewAmerica columnists are their own and do not necessarily reflect the position of RenewAmerica or its affiliates.
---