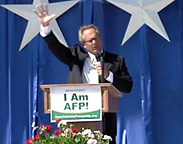 Jake Jacobs
Our Republic under God versus the god of The STATE!

By
Jake Jacobs
June 20, 2012
I had the blessing of being one of the last Americans to meet President Ronald Reagan in his L.A. office in 1998. President Reagan had a passion for the two KEY elements that made our Republic under God the greatest form of government the world has ever seen: the Family and the Heritage of our Founding Fathers. He stated in 1983: "The family has always been the cornerstone of American society. Our families nurture, preserve, and pass on to each succeeding generation the values we share and cherish, values that are the foundation of our freedom" The "family unit" President Reagan was talking about was NOT the family unit of Karl Marx, Saul Alinsky, and Barack Obama, it was the family unit of the book of Genesis, it was the family unit of the God of Abraham, Isaac & Jacob.
Unlike many of today's Left-Wing High School and University teachers, President Reagan had a profound admiration for our Founding Heritage. In 1981 in his Notre Dame commencement speech President Reagan proudly stated: "This Nation was born when a band of men, the Founding Fathers, a group so unique we've never seen their like since, rose to such selfless heights. Lawyers, tradesmen, merchants, farmers — 56 men achieved security and standing in life but valued freedom more. They pledged their lives, their fortunes, and their sacred honor. Sixteen of them gave their lives. Most gave their fortunes. All preserved their sacred honor. They gave us more than a nation. They brought to all mankind for the first time the concept that man was born free, that each of us has inalienable rights, ours by the grace of God, and that government was created by us for our convenience, having only the powers that we choose to give it."
Towards the end of his speech President Reagan looked intently at the young Notre Dame graduates and said: "This is the heritage that you're about to claim as you come out to join society ... as you join us out there beyond the campus, you know there are great unsolved problems. Federalism, with its built in checks and balances, has been distorted. Central government has usurped powers that properly belong to local and State governments. And in so doing, in many ways that central government has begun to fail to do the things that are truly the responsibility of a central government. All of this has led to the misuse of power and preemption of the prerogatives of people and their social institutions. You are graduating from a great private, or, if you will, independent university. Not too many years ago, such schools were relatively free from government interference. In recent years, government has spawned regulations covering virtually every facet of our lives."
That was 1981; Americans and politicians both Democrats and Republicans have overall ignored Reagan's admonition of government's insatiable appetite to cover every facet of our lives. In the past 31 years the Federal Government has expanded, exploded, extorted, and especially in the past 3 ½ years exercised unprecedented growth, a growth that like a cancer cell is eroding away our liberties' and fundamentally transforming this Republic under God into the monstrous totalitarian vision of Saul Alinsky, Bill Ayers & Barack Obama.
Our Founding Fathers had a wonderful vision of a Republic under God where millions of citizens throughout thousands and thousands of cities, towns, and villages across this great land would shine the light of limited government, State sovereignty, the sanctity of all of life and of marriage between one man and one women. Our Founders Judeo-Christian Worldview proclaimed that man is more than matter in motion and Marxist mud; our Founders believed that man is wonderfully made in the image of God.
Our Founders unlike the Radical Left of Europe and America today did not worship the Omnipotent STATE. Benito Mussolini socialist turned fascist who borrowed much of his worldview from the Marxist Vladimir Lenin use to love to declare "Tutto nello Stato, niente al di fuori dello Stato, nulla contro lo Stato" (Everything in the State, nothing outside the State, nothing against the State.) From time immemorial mankind has desired to design an earthly kingdom without God where the State from cradle to grave dictates humanity's destiny. From Jean Jacque Rousseau's General Will, Robespierre's Reign of Terror, Lenin-Stalin's Soviet Socialist rule of horror, Hitler's National Socialist ovens of hell, Castro's suppressive Cuban Communism, Mao's Marxist mass murder of millions and millions across Asia, to Saul Alinsky's Satan dedicated book
Rule's for Radicals,
left-wing atheistic "Stateism" has left in it's diabolical and destructive dystopic path not only the eradication of freedom of religion, speech, press, and assembly but the death of over one hundred million people in the twentieth century!
Sadly Stateism-Socialism-Marxism is not dead. It's road to serfdom is alive and well around the world and in America. From the streets of Athens, Greece, Paris, France, to New York City, Madison, Wisconsin, Chicago, Illinois and across America, Occupyism, Mobism, Stateism, Communism, Collectivism, and Big Government elitist central planning is raising its ugly anti-American totalitarian head attacking the traditional Judeo-Christian values that made this Republic under God the greatest form of government and Nation the world has ever seen. While the United States is not prefect America is exceptional and we have much to be proud of!
The gods of the State from Julius Caesar to Joseph Stalin have always despised the God of Abraham, Isaac and Jacob, the God of Israel, The LORD of the Holy Scriptures, the God of our Founding Fathers, the God in whom we trust. It was John Fitzgerald Kennedy who challenged the Stateism of Soviet Socialism when he declared in his 1961 inaugural address: "The rights of man come not from the generosity of the State but from the hand of God." We must never forget and we must forever strive to educate our children, our friends, our neighbors, and to anyone willing to listen that the origin of life and liberty is from our Creator as described in our beautiful Declaration of Independence where God is also called in the last paragraph "the Supreme Judge of the world."
It is not a coincidence that in the various socialist revolutions of France, Russia, China, Korea, Cuba, and Germany that one of the first freedoms to go is freedom of religion, freedom of faith as guillotines and gulags consume millions of God's children.
The gulag is not dead! Cultural and political gulags have taken over many of the key institutions in America as anti-Christian politically correct government schools along with the America Civil Liberties Union, the National Education Association and thousands and thousands of Alinskyites, Progressives, and Socialists disseminate atheistic Stateism while denying our glorious Judeo-Christian foundation that is the key to freedom in any land.
When Samuel Adams, John Adams, and John Quincy Adams went to Harvard in the 1700's they studied Hebrew, Greek, and Latin, to learn from the great mind of antiquity from Cicero and Moses to Jesus and Paul. In contrast, Barack Obama surrounded himself at Columbia and Harvard with Marxist professors, structural feminists and other radical socialists who taught him atheistic Marxist Critical theory and progressive anti-Constitutionalism that despises our rich biblical religious heritage.
My fellow Christians, my fellow conservatives, my fellow constitutional republicans we are conservative constitutional republicans because our founders were conservative constitutional republicans who understood that a republican form of government can only survive under and with the God of Abraham, Isaac, and Jacob. Not the god of The State!
The spirit of our Founders calls out to us in 2012, as Abraham Lincoln stated, "their blood is our blood, their flesh is our flesh." Our Republic beckons us to take action now to save it, to preserve freedom for our children and our children's children. Let us resolve to have the words that are in inscribed across the top of the Liberty Bell from the book of Leviticus 25:10 emblazoned in our hearts and declared from our lips, "proclaim liberty throughout the land and unto all the inhabitants thereof."
© Jake Jacobs
---
The views expressed by RenewAmerica columnists are their own and do not necessarily reflect the position of RenewAmerica or its affiliates.
---