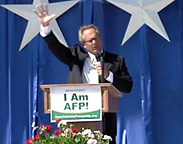 Jake Jacobs
Upon this battle depends the survival of Western-Christian civilization

By
Jake Jacobs
August 10, 2012
My last article was on the 2012 Olympics and "Socialists sentiments" that were on display in London during the opening ceremonies. One of my all time favorite musicians Paul McCartney not only sang
Hey Jude
during the opening celebration but sang a bit from a song called
The End
from the famous
Abbey Road
album released 43 years ago this month. Beatles history and nostalgia has me thinking of the relationship between Western Culture and the influence of anti-Western culture as manifested and perpetuated by the various utopic socialistic, progressive and multicultural voices of years gone by and today.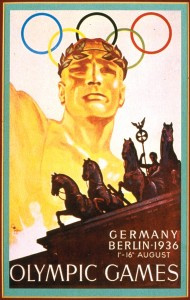 I believe the 1966 Beatles song Taxman expresses the rude awakening one can have when the reality of socialistic machinations are manifested into society in the form of progressive-punitive taxation and Marxian redistribution of wealth as cleverly achieved by England's Fabian socialists via Harold Wilson and the British Labour Party and by American Fabians and progressives via Barack Obama and the Democratic Party. Beatle George Harrison tells us that the song
"Taxman
was when I first realized that even though we had started earning money, we were actually giving most of it away in taxes. It was and still is typical." The confiscation of hard working citizens creativity and productivity via inordinate taxation by Big Government Bureaucrats is the typical mode of operation of Socialists worldwide from London to Beijing and from Paris to Washington D.C.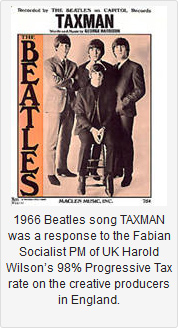 In London, England in 1848 Karl Marx wrote his pernicious treatise
The Communist Manifesto
where he called for The State to coercively redistribute wealth from the so-called evil and greedy bourgeoisie capitalists to the so called oppressed, righteous and needy proletariat. Unfortunately for Marx and his militant minions his ideas were not working well with Western Culture's main lynchpins and defenders: Great Britain and the United States of America.
Soon after Marx's death in 1883 Marxist intellectuals created a clever and sly strategy that was designed to fool English Conservative-Christians into believing that their brand of socialism was not only harmless and innocuous but THE answer to all of England's socials woes. It has taken a few generations but the symbols of the Fabians, a wolf in sheep's clothing and a slow but steady turtle is in no hurry to destroy Great Britain's and America's Western-Christian culture and civilization. Slowly but surely stealth Fabian cultural Marxism has bit by bit and piece by piece infiltrated English and American culture, society, politics, media and education on all levels with political correctness, social engineering, the restructuring of the family, the normalization of abnormal and deviant sinful behavior and a crib to crypt culture that turns people away from God and directs them to the State for ultimate security.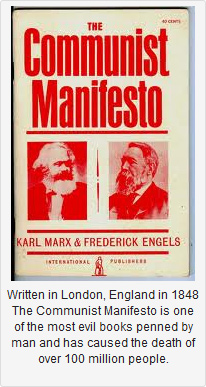 Winston Churchill who in 1945 was replaced as Prime Minister of the UK by the Fabian Socialist Clement Atlee stirred the people of Great Britain and the world to action in 1940 versus the ugly philosophy of the National Socialists, which he called "a new Dark Age made more sinister...by the lights of a perverted science." A few years later Churchill would call Soviet Socialism "an Iron Curtain of oppression and totalitarianism."
In like manner Fabian and Obama Socialism is a perverted science and an iron curtain of oppression that is a stealth, so called "scientific socialism" that is a conglomeration of Keynesian economics, cultural Marxism, Harvard critical theory, Marcuse relativism, Gramscian hegemony and Alinsky tactics that are all hell bent to destroy Western civilization's heavenly values and liberties. Very cleverly they are not overtly militant and openly Marxist for to do so would take the camouflaged wool off their wolf's lair and reveal the nefarious nature of their anti-Christian worldview. The Fabians, progressives and socialists of various strips have been patient, steady, and long-suffering in their march through the institutions of Western Culture and Civilization. The socialists know their season is nigh, they know their time has come as the Christian Civilization of England and America is dying and has gone the way of Empires of yester year. Soon the Fabian socialists shall kick in the door of the United Kingdom and the United States accomplishing through culture what Hitler could never do through his Luftwaffe and Wehrmacht, that is: the capitulation of England and America's Christian Civilization.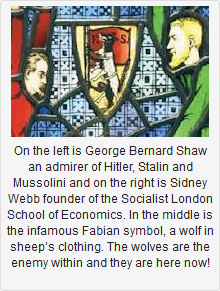 The English will probably never again sing the inspiring 1939 World War Two song "There Always be an England." No, there will not always be a Christian England as we knew her, she is dying at the hands of cultural Marxism, Fabian and English apathy and indifference to it's plight. Winston Churchill in his wonderfully inspiring 1940 speech for the Battle of Britain declared:
"Upon this battle depends the survival of Christian civilization. Upon it depends our own British life, and the long continuity of our institutions and our Empire. The whole fury and might of the enemy must very soon be turned on us. Hitler knows that he will have to break us in this Island or lose the war. If we can stand up to him, all Europe may be free and the life of the world may move forward into broad, sunlit uplands. But if we fail, then the whole world, including the United States, including all that we have known and cared for, will sink into the abyss of a new Dark Age made more sinister, and perhaps more protracted, by the lights of perverted science. Let us therefore brace ourselves to our duties, and so bear ourselves that if the British Empire and its Commonwealth last for a thousand years, men will still say, 'This was their finest hour.'"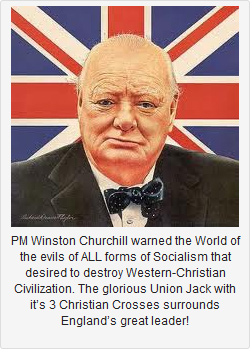 Unless the English and Americans wake up and brace themselves to their duties, their finest hour shall never be again. The British and American way of life and the long continuity of their Western-Christian institutions shall be no more and they will succumb to a new dark age of socialism and total government control. Where there is no Christianity there is no liberty and where there is no Western-Christian civilization there is no sacredness of life and marriage as given to us by our Creator.
The flag of Great Britain is the Union Jack; it comprises 3 Christian Crosses that represent the sacrifice given for the redemption of mankind by Christ and his followers. No such martyrs exist today in England! Where are the Alfred The Great's? Where are the William Wilberforce's? Where are the Winston Churchill's to awaken the soul of Britain that declares, "We have before us an ordeal of the most grievous kind. We have before us many, many long months of struggle and of suffering." Where are the voices declaring "we have nothing to offer but blood, toil, tears and sweet" against those who would destroy our Freedoms?
In similar fashion to the 1936 Summer Olympics of Germany the World is distracted and entertained by the 2012 Summer Olympics of England. We rightfully enjoy and are enthused by the wonder of Olympic athletic competition and achievement while all along wishing the world was at peace with goodwill towards all. As in 1936 there are sinister forces crawling the earth desiring to devour our children and destroy the life and liberty we hold so dear. Too many in the Western world today cannot be bothered when Governments act as God, steal our money, confiscate our property, take our guns, spend what they do not have, stimulate through artificial fabrication and bogus borrowing while destroying free enterprise through central control, collective planning and bureaucratic balderdash that stifles the entrepreneurial spirit and eliminates millions of creative citizens economic opportunities.
This isn't just an English or European problem. This is an international problem whose tentacles have crepe into American soil, American institutions, American politics, and American values and they are destroying the very heart and soul of our Republic under God. Where are the Patrick Henry's who passionately proclaim for Liberty or Death? Where are the Sam and John Adams who declare we are Sons of Liberty over tyranny? Where are the Nathan Hale's who cry out "I regret I have only but one life to give for my country?"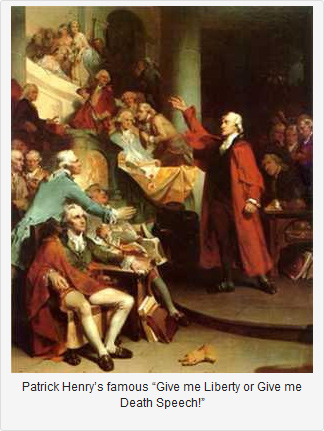 This Battle, this War is in some ways more difficult to detect than during World War II and the Cold War. In those Wars you could readily see, hear, smell, taste, and touch the Socialistic enemy of Germany and Russia. Today the enemy is within. They are within our schools, within our churches, within our media, within our movies, within our State and Federal Capitols and within the White House and in far too many homes in America.
The United States like Great Britain is dying and we must find the courage to stand up to this nefarious enemy and proclaim: "You will NOT succeed on our watch, you will NOT be victorious! Not while we still have breath-to-breath, minds to think and tongues to declare "give us Liberty or give us Death!"
© Jake Jacobs
---
The views expressed by RenewAmerica columnists are their own and do not necessarily reflect the position of RenewAmerica or its affiliates.
---