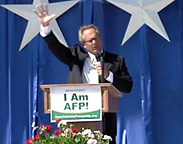 Jake Jacobs
The Flag of our Fathers is falling and calling out to us!

By
Jake Jacobs
November 27, 2012
I am still numb and dumfounded by the Election 2012 results that saw the re-election of THE most radical BIG Government President in our History. As our Republic dies and democracy-mobocracy grows in America I reflect upon the America my father fought for in World War II.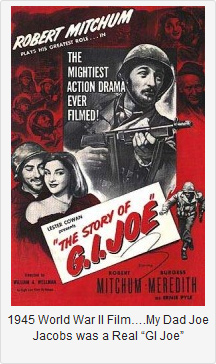 My Dad, Joe Jacobs was a true "GI Joe." At 17 he joined the US Navy and fought in the Pacific Theater from 1944-1945. As a kid I use to listen to him talk about what it was like to see the destruction Okinawa, Saipan and Tokyo and his love of P-51's and B-29's.
In the mid 1960's in my neighborhood of Appleton, Wisconsin many times when the "baby boomer boys" would get done playing football we would share our Dad's WWII stories. I didn't get it then but our generation was birthed by an amazing generation of Freedom fighters and my Mid-West blue collar neighborhood was full of humble, hard working Audie Murphy's . Those childhood stories planted in my heart an admiration for our Military, our "Angels of Liberty" who have liberated millions worldwide and preserve freedom in America. That admiration led me to dedicating my life to the teaching of American History at the High School and College level for the past 25 years.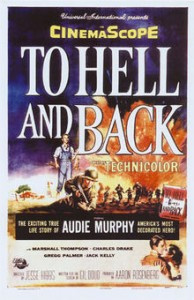 Dare I say in this Lefty politically correct day and age that my Dad and my buddies Dad's were or are "old white men." It angers me to even have to say that but I have an angry point to make! I guess that makes me according to the Liberal label pundits an "angry old white man" too.
Since I teach History, Government and Current Events, I read and listen to a variety of News sources from ABC, CBS, PBS, MSNBC to FOX News, the Wall Street Journal, NY Times, The Guardian etc. etc. The hackneyed, regurgitated, reiterated, hyper-stressed mantra, cliche and talking point by subjective TV reporters, journalists, pundits, political hacks and Lefty Obama worshiper media elites is that Conservative losers are: "angry old white men." Romney, Republicans, Conservatives, Tea Partier's are labeled as antiquated, religious, intolerant, narrow minded, uneducated, sexist, racist and homophobic dinosaurs or "caustic Caucasians" that need to get with the times because "they are a changing."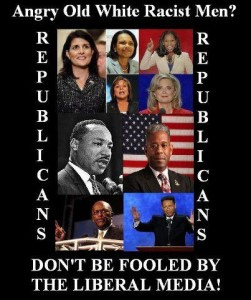 They sure are. And not for the better.
"E pluribus unum" is the unofficial National motto which translates "out of many one." When Lefty writers like Diane Roberts of The Guardian writes:"a few sprinkles of chocolate and carmel don't change the over all flavour: Republicans are still vanilla" or when Senate Majority leader Harry Reid and NBC's Andrea Mitchell call Romney and the Republican Party "angry old white men" their hypocrisy and double standard- double speak, speaks loud and clear:
The color blind "Freedom dream" of most of our Founders or for that matter Reverend Martin Luther King has become a nightmare of divisiveness, intolerance and the veneration of skin color, all but White. As radical feminism, pro death-abortion advocates, homosexual values, ethic identification politics and university "other than Caucasian" studies explodes government programs at taxpayer expense to appease the promiscuous politically correct powers that be, Life and Liberty diminish and deny the very essence of the one word that made our Republic under God unique and exceptional in World History:
Freedom!

Freedom
pure and simple is the heart and soul of what being an American is all about.
But
Freedom
with
moral responsibility
before our Creator.
Liberals young and old who pride themselves as being tolerant have become militantly intolerant and "angry" at those individuals in America who desire to recapture the inward belief and practice of freedom with moral responsibility before our Creator.
Conservative Americans desire freedom from inane and insane charges of racism every time we voice our opinions on the millions of illegal aliens who violate our laws and demand a free education, entitlements and no ID to vote. Oops there goes my "Carmel" vote. Patriotic Americans are tired of being labeled as angry white men and racist when we analyze and critique our Commander and Chief or his bumbling UN Ambassador Susan Rice. Hypocritically when we critiqued Conservative Secretary of State Condoleezza Rice we were called bold and honest. No sexism or racism then.
Millions of Americans of both genders with many diverse heritages desire Freedom from a irresponsible spending BIG government gone wild off our backs and at our expense. Patriotic Americans want freedom from an unconstitutional Federal Reserve that prints bogus money that destroys the dollar and increasingly burdens working men and women in America with a pocket book that shrinks as government bureaucracies grow.
I could list a thousand examples of double standards and Janus faced double speak that reflect how absolutely Orwellian bizarre and crazy American society and culture has become in 2012. The problem not only emanates from the progressive secular humanistic Left but it has captured the thinking and rhetoric of many of our children, family, friends and church members.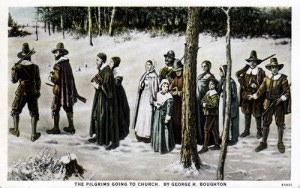 The other night at my annual Thanksgiving Fire-pit evening with family and friends many within our company young and old alike repeated the Lefty Media rhetoric that "Republicans, conservatives and Tea Partiers need to find a way to reach out to Women, Blacks, Latinos, Jews, and Asians to win them over to our side." And this was expressed by many who voted for Romney. I realized then it is MUCH worse than I write about in my book MOBOCRACY. Much worse. Citizens are being duped and fooled by the culture around them and lack a historical and constitutional perspective to discern the Left's manipulation, guilt trip and lies.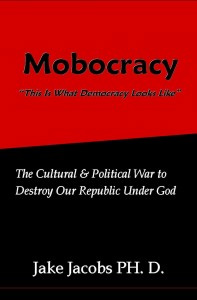 It was repeated by many that night "Come on Dad, come on Jake you are stuck in ancient times, times of eras gone by, times of Reagan, times of Lincoln, times of Washington."
My response to them that night and will be until my last night on earth is:
"This Republic's greatness, uniqueness and exceptionalism is the reality that we declare from a City upon a hill to the whole world in evangelistic form that all men and women are made in the image of God; thus we are equal and free! Nothing else matters.
Our gender, our color, our class or ethnic heritage is NOT relevant to that reality or to the dream and vision of our Founders. Therefore when we succumb to, cater to and cave into the politically correct societal peer pressure of BIG Media, BIG Government, BIG Entertainment and BIG Education we feed the monster of tyranny and suffocates the sacred flames of freedom's fire!"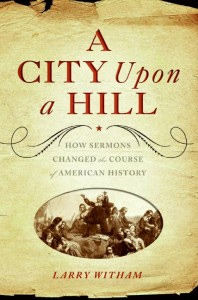 When we ignore, denigrate or deny the eternal and profound wisdom of "white men" like George Washington, Patrick Henry, Benjamin Franklin, Thomas Jefferson, George Mason, Samuel Adams, John Adams, James Madison, John Locke, William Blackstone, Samuel Rutherford, Alfred the Great, William Wilberforce et. al and we venerate the destructive philosophy other "white men" like Karl Marx, Leon Trotsky, Antonio Gramschi, Herbert Marcuse, Saul Alinsky, John Dewey, Bill Ayers et.al. we show how utterly STUPID it is to just as I did to label ideas with skin color. When Frederick Douglas, Clarence Thomas or Thomas Sowell speak truth it comes from within, from the source of all Truth: GOD.
THAT is the essence of
Freedom
NOT outward identification.
When the 56 "white" signers of the Declaration of Independence and the 55 "white" signers of our Constitution went to Harvard, Yale, William & Mary, Brown, etc. they studied Hebrew, Greek, Latin, French, Spanish etc. through their studies they created a Constitutional Republic under God that was a product of great minds from Christian Western Civilization most of whom happen to be from European "Judeo-Christian & Greco-Roman" heritage. Their ideas are not better because they are "white," European or "Caucasian"(I hate that racist term) their ideas are better because they are self evident TRUTHS that go back to Moses and Aristotle and ultimately GOD.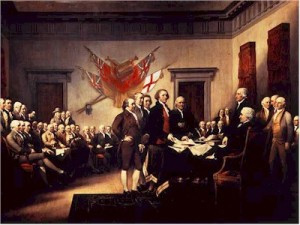 This is no longer being taught by BIG Education in America as BIG Government K-College schools have been taken over by secular humanists, progressives, socialists and cultural Marxists who have won the textbooks, indoctrinated the union teachers and inverted and perverted the Glory of the American Story!
I leave you were I started. With GI Joe and Appleton, Wisconsin.
1 mile from my home in Appleton is a memorial at Appleton West High School. It shows WWII US Navy veteran John Bradley an Appleton High School graduate raising the American Flag flag with 5 other men at Iwo Jima. Their story, our story is wonderfully told in the book
Flags of our Fathers
. 3 of the 6 Americans of that famous Iwo Jima picture never came home alive. While those brave Marines and Navy members of our Great Military come from backgrounds as diverse as Quebec, Canada, Pennsylvania, New Hampshire, Ohio, Wisconsin, Jarbina, Slovakia and Gila River Indian Community in Arizona they symbolize and represent E pluribus unum "out of many one." A oneness that sees not skin color or outward identification as the heart of Liberty but a oneness that understands that
FREEDOM
is the heart and soul, the life blood of the American Republic.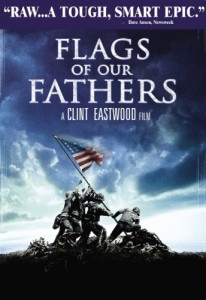 Americans! This is NOT hyperbole!
The Flag of our Republic is falling, the spirit of our Forefathers is calling. Who among us is willing and ready to carry the Flag of our Fathers and our Forefathers up to the top of that City upon a Hill?!
It will cost you dearly, you will be ridiculed, maligned, and called a fool. You may lose your fame, your fortune and your sacred honor but for the sacrifice and memory of Patriots before us and for the preservation of
freedom
for our children will you carry our Republic's Flag once again?
By God's Grace and Power we will be victorious! Amen.
© Jake Jacobs
---
The views expressed by RenewAmerica columnists are their own and do not necessarily reflect the position of RenewAmerica or its affiliates.
---