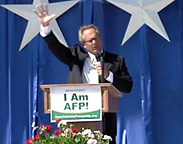 Jake Jacobs
REPRESSIVE INTOLERANCE: The FOG of fascism & cultural communism over many American universities

By
Jake Jacobs
November 24, 2015
The famous Constitutional attorney Alan Dershowitz concerned over the fanaticism of college students demanding 'Safe spaces' on college campuses declared that a "fog of fascism is descending quickly over many American universities." You know things must be bad in America, when a liberal Democrat, Harvard Professor and Hillary Clinton supporter WARNS us of a "fog of fascism" in our institutions of higher learning. Ironically it is the very same liberal institutions that Dershowitz works out of that created that fascist fog and repressive intolerance he now is so concerned about.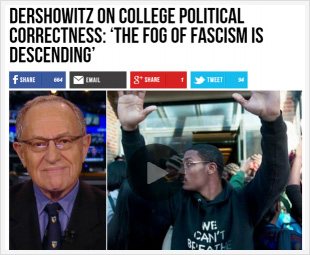 While the Leftist Dershowwitz would not admit it, the fog is not just fascist, it is cultural communism. The teachings of post-WWII Marxists Professors and their protege's of the Sixties and Seventies have come to fruition in full bloom today as it is exercised by arrogant, spoiled, pampered, college brats who have learned how to manipulate the politically correct system with rules for radicals that have transformed The American University into a ever more growing "Campus Police State."
As covered in my book
MOBOCRACY: The Cultural & Political War To Destroy Our Republic Under
God, t
he history behind this is long and complicated. There are many guilty parties in this anti-American narrative but let me cover just a few of the apparatchiks. The influence of Italian Marxist Antonio Gramsci cannot be underestimated. Gramsci taught that militant Marxism will not work in it's desire to destroy Western-Christian Civilization. He taught that a patient "long march through the institutions" was needed, where Marxist ideas of THE STATE dictating policy was to be a gradual process of infiltration and amalgamation IN the culture. The University was to be the PRIME place to start the process.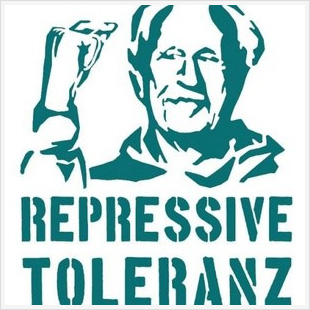 Following Gramsci would be the 1960's Guru intellectual "Rock Star" Marxist professor Herbert Marcuse. Marcuse's 1965 book,
"Repressive Tolerance"
taught the kids of the Sixties to "tolerate" all things: EXCEPT Judaeo-Christian-Conservative ideas. Those ideas were to attacked with a passionate but calculated vengeance that would dismantle the foundation of our Republic one brick at a time.
Marcuse and all of his Marxist Frankfurt School Colleagues taught in the 50's, 60's and 70's throughout Universities in the US, and cloned themselves exponentially through the next generation of radical Professors such as Ward Churchill, Bill Ayers, Bernadine Dohrn. Today's Generation X Marxist Professors carry the baton of the University-PC Police to their students who are spreading "Repressive Intolerance" at a rapidly accelerated pace.
BUT! There is hope.
As I travel America fighting
Leftist-Repressive Intolerance,
I have had the honor of working with many fine Patriots, who like me are working hard to enlighten young and old alike on the nefarious nature of these pernicious thought police who are enemies of Liberty. From Raphael Cruz and Bill Whittle to Freedom loving millennials like Katie Pavlich and Ben Shapiro they give me hope that we can clear this fascistic-communist fog from the culture.
Although I have not had the pleasure of meeting the founder of TURNING POINT USA, Charlie Kirk, Charlie and many dedicated Conservatives from
Young Americans for Freedom
& Libertarians from
Young Americans for Liberty
keep me going strong for the cause of preserving our Constitution Federal Republic.
An example of this hope is when I recently heard Ben Shapiro's testosterone filled speech at University of Missouri in response to their Repressive Intolerance. I quote extensively from Lee Stranahan's Breitbart article titled:
University of Missouri Audience Applauds as Ben Shapiro Rips Aggressive Professor

"Ben Shapiro's speech Thursday evening at the University of Missouri was a galvanizing moment for the campus and community that became the national focus of media attention in early November after a group of radical black liberation activists, assisted by leftist faculty members, forced the resignation of the university's president and chancellor.
The event marked the first large, public backlash to the political correctness gone wild that had overtaken Mizzou in the past several months. Towards the end of his rousing speech, Shapiro discussed how the "micro aggression" culture of taking offense at minor, even unintended things leads to real aggression. Shapiro discussed how the "micro aggression" culture of taking offense at minor, even unintended things leads to real aggression. Shapiro said, "There's never been a bad person on planet Earth who has not felt justified in doing his or her bad thing. All colleges do now is give people reasons to feel justified in doing the bad things that they want to do.....
Shapiro lit into the very real aggressions that had played out at the University of Missouri, including
the story that Breitbart News covered of Mizzou faculty member Dr. Melissa Click
, who blocked a student reporter with a camera when he attempted to enter a public space on campus that #ConcernedStudent1950 activists had declared a "safe space" for themselves.
Because you're micro aggressed, once you're part of the self-designated victim group, driven to extremes by the evils of "white privilege," you can now ban white students from black safe spaces; which, by the way, is a policy that the KKK loves, because the space is both seperate and equal.

You can have the police investigate "hateful" remarks, as Mizzou cops are now doing, as the notice went out a couple of weeks ago that was heavily covered. I tweeted out that everybody should immediately call the cop and inform them that Professor Melissa Click is engaged in micro aggressions and actual aggressions.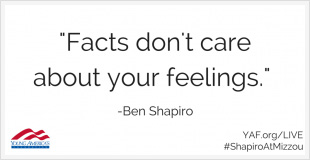 Ben started out his speech by declaring, " FACTS DON'T CARE ABOUT YOUR FEELINGS." Damn right Ben!
We need to clone about 10,000 Ben Shapiro's and Charlie Kirk's and send them into this War on Christian Civilization to SMASH CULTURAL MARXISM & FOGGY FASCISM with FACTS & ACTION that destroy their lies, deceit, and godless ways!
© Jake Jacobs
---
The views expressed by RenewAmerica columnists are their own and do not necessarily reflect the position of RenewAmerica or its affiliates.
---