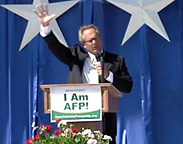 Jake Jacobs
The story behind This Land Is Your Land

By
Jake Jacobs
February 2, 2018
Most Americans know Woody Guthrie's classic folk song "This Land is Your Land," but few know the anti-Christian, pro-Communist motivation behind its creation and behind Guthrie's Marxist politics. "This Land is Your Land" was written in 1940 as a direct response to Irving Berlin's "God Bless America," which Guthrie hated and criticized as being nationalistic and against the spirit of socialism.
Guthrie, who loved the writings of Karl Marx, was reflecting Marx's primary goal written in his infamous book the
Communist Manifesto
, where Marx declared that all private property should be abolished. While many have attempted to revise and reinterpret Guthrie's controversial communist legacy since his death, Guthrie himself was never afraid to let his true communist colors shine. In addition to writing for the Communist Party's newspaper, he openly attended Communist Party events and spoke of the need for Marx's ideas in America. As Guthrie once said, "The best thing that I did in 1936 was to sign up with the Communist Party."
While attacking President Franklin Roosevelt and capitalism, Guthrie cheered Joseph Stalin loud and long, defending the evil Hitler-Stalin Pact of August 1939, and the Soviet invasion of Poland in September 1939, while all along singing songs and writing articles praising the mass murderer Stalin. How hypocritical that Guthrie sang songs about poverty, suffering in America, and attacking free-enterprise, all while supporting Stalin's sadistic-socialism that had already starved to death or murdered 12 million people by 1939.
While Woody was a supporter of murdering-Marxism he loved to proclaim his hatred for
fascism
as he proudly displayed on his guitar
"This machine kills fascists."
How ironic that Woody Guthrie loved a philosophy that was responsible for the death of over 100 million people in the 20th century. Woody should have put on his guitar along side his
"This machine kills fascists"
sign, another sign that said:
"This machine kills communists."
Woody Guthrie wasn't the only musician, writer, poet, politician or professor to support Communism and the mass murderer Joseph Stalin in the 1930's, 40's 50's and 60's. Woody's buddy the famous Pete Seeger of "Puff the Magic Dragon" fame was for awhile a Stalin admirer. Civil Rights activist W.E.B Du Bois wrote a glowing eulogy when Stalin died in 1953 where he wrote "Joseph Stalin was a great man; few other men of the 20th Century approach his stature."
The famous singer, actor and civil rights activist Paul Robeson who visited the Soviet Union in 1934 and fell in love with Stalin and Soviet Socialism wrote a glorious tribute when Stalin died titled
"To You Beloved Comrade"
where he wrote "Slava – slava – slava – Stalin, Glory to Stalin. Forever will his name be honored and beloved in all lands." Even the founder of the ACLU Roger Baldwin admired Joseph Stalin and supported Soviet political repression as a necessary evil in the so called "noble" quest for utopia.
I could list hundreds more of what Vladimir Lenin called "useful idiots" but let it suffice to say that sadly there were far too many Americans who supported one of the worst tyrants in world history and if Stalin had his way he would have destroyed the greatest liberty loving Republic in world history.
This land is our land from California to the New York Island, but it is not a land that believes that state socialism should be allowed to destroy life, liberty, equality, and justice for all.
Here is Dr. J's One Nation Video on this topic:
https://www.youtube.com/watch?feature=youtu.be&v=PaJt1Ib4LSk&app=desktop
© Jake Jacobs
---
The views expressed by RenewAmerica columnists are their own and do not necessarily reflect the position of RenewAmerica or its affiliates.
---