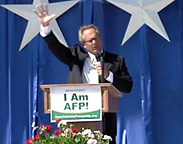 Jake Jacobs
United Kingdom does not practice what it preaches

By
Jake Jacobs
May 4, 2018
One of the key reasons the United Kingdom became great was because of its dedication to freedom of speech. Debating and discussing
opposing ideas
was the very cornerstone of maintaining a free parliamentary democracy.
On the surface it appears that the UK still upholds "freedom of speech," as just last week Sadiq Khan, London's Muslim mayor,
tweeted
, "If he comes to London, President Trump will experience an open and diverse city that has always chosen unity over division and hope over fear. He will also no doubt see that Londoners hold their liberal values of freedom of speech very dear."
The problem is, Khan's comments are no longer true. The British government has banned from entering the country, a growing number of conservative, Christian, and Jewish speakers, as well as political activists. Young America's Foundation's
Robert Spencer
, an expert on Islam, along with Jewish-activist Pamela Geller, have been banned from the UK since 2013. In November, Chris Bryant, a Labour Member of Parliament, cited Spencer and Geller as examples for then being able to call for the banishment of President Trump. According to Bryant, Trump is to be
banned
because he condones fascism, and Spencer and Geller have anti-Islamic attitudes.
Just recently Canadian Libertarian Lauren Southern was banned for daring to speak the truth on Islam. American conservative Brittany Pettibone and Austrian Martin Sellner were detained, interrogated and then
banned
by the British government for attempting to deliver a speech on the subject of "threats to free speech in the modern world" at the famed
Speaker's Corner
, in London's Hyde Park.
The bizarre hypocrisy is that the Speaker's Corner has been a
venue
to thousands and thousands of speeches since 1866 with the likes of Karl Marx, Vladimir Lenin, George Orwell, and many more, from left to right and all over the political spectrum.
Prime Minister May and Mayor Khan do not truly support the "liberal values of freedom of speech" and "diversity" as they have become intolerant politicians who only allow filtered, politically correct speech which they condone as acceptable. In the name of "freedom of speech" in Orwellian fashion, they have become oppressors of the very heartbeat of democracy.
That heartbeat is the right to express factual, reasonable, and contrary opinions without Big Brother shutting you down. God help Great Britain in their dark hour.
© Jake Jacobs
---
The views expressed by RenewAmerica columnists are their own and do not necessarily reflect the position of RenewAmerica or its affiliates.
---