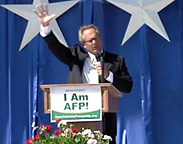 Jake Jacobs
Liberal commencement speakers overtake universities

By
Jake Jacobs
May 30, 2018

Graduation season is upon the United States, which means celebrities and pop culture icons are invited to provide commencement speeches.
And then there are the washed-up politicians who want to hear applause again at what they have to say. Insert Hillary I-can't-get-over-my-loss-to-Donald-Trump Clinton, who showed once again the depths she will go to blame the loss of her 2016 presidential campaign on anyone not named Hillary Clinton.
Clinton was invited to provide the commencement address at the 2018 Senior Class Day ceremony at Yale University on Sunday, May 20. In an attempt to
mock
President Trump, Clinton pretended to don a "Russian" hat with the communist hammer and sickle symbol. She did not place the hat actually on her head, which would have messed up that look of hers.
Clinton proceeded to cleverly attack President Trump and those who support him, including by stating that "if you can't beat them, join them," a clear reference to her 2016 loss. After quoting former Secretary of State Madeline Albright's new book Fascism: A Warning, as well as Benjamin's Franklin's call to keep the republic, Clinton infers that President Trump and his followers are destroying the republic through fascistic means.
"Waging a war on the rule of law and a free press, delegitimizing elections, perpetrating shameless corruption, and rejecting the idea that our leaders should be public servants undermines our national unity," Clinton
said to the graduates
. "Attacking truth and reason, evidence and facts, should alarm us all."
What should alarm all Americans is that at the country's once-great universities, hardcore progressives, lefties, socialists and
Marxist
professors are indoctrinating the youth with big government pablum and social engineering. They are reinforcing this devious propaganda at commencement ceremonious with the likes of Clinton at Yale University,
Nancy Pelosi
at Mount Holyoke College, and
Elizabeth Warren
at Lesley University.
In 2017, President
Trump
was not invited to speak at any university ranked amongst the top 100 schools by U.S. News & World Report.
Notre Dame, which traditionally invites the new U.S. president to speak, opted instead to invite Vice President Mike Pence. But this was not suitable to the snowflake supposed adults who were to graduate and go into the real world the next day. Students began a #NotMyCommencementSpeaker
campaign
and safe space assembly in protest of the vice president's speech.
One year later and the same old story is playing. Campus Reform found that "liberal commencement speakers will outnumber conservatives by nearly four-to-one at 50 of the nation's largest colleges this year."
"While some schools told Campus Reform they had recently discontinued the practice of inviting outside commencement speakers, the trend does not seem to be widespread, and the political skew is even more severe among some of the nation's most elite institutions," wrote reporters Sandor Farkas and Grace Gottschling.
Though leftist doom and gloom dominates the universities, there is hope, as organizations, including
Young Americans for Freedom
, Young American For Liberty, and
Turning Point USA
, challenge the progressive status quo. These organizations are responsible for helping conservative voices be heard on college campuses. Ben Shapiro, Dinesh D'Souza, Charlie Kirk, Candice Owens, Rand Paul, Heather MacDonald, and many more who counter the lies and deception, have presented reason to a climate increasingly hostile of such thought or thought at all.
© Jake Jacobs
---
The views expressed by RenewAmerica columnists are their own and do not necessarily reflect the position of RenewAmerica or its affiliates.
---