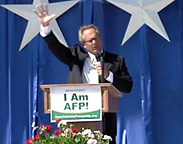 Jake Jacobs
Democrats respond to Trump meeting with North Korea

By
Jake Jacobs
June 19, 2018

The Donald Trump presidency continues making history, as the world witnessed the leader of the free world signing an agreement with one of the world's most oppressive dictators.
At a summit in Singapore on Tuesday, June 12, President Trump and Kim Jong Un, North Korea's supreme leader, met behind closed doors in hopes of committing to building stability and the denuclearization of the Korean peninsula. The end result was an agreement to completely denuclearize.
Now there is a big IF. If America can verify an authentic denuclearization of North Korea, it would be such a monumental accomplishment that President Trump would go down in history as a great world leader, and unlike Barack Obama, would legitimately earn a Nobel Peace Prize.
There are a number of insightful and balanced analyses of President Trump's negotiations with Communist dictator Un. Leading conservative thinker Ben Shapiro is hopeful, but encourages everyone to wait and see what actually comes to fruition.
"Kim presides over a slave state of 25 million people, with gulags stacked with hundreds of thousands of political dissidents," Shapiro wrote in an
article
entitled "Trump's Triumph or Kim's Coup?"
While some on the Right have rushed to
overly optimistic assumptions
, the Left and many Democrats have immediately assumed the worst because their hatred for Trump is greater than their desire for peace.
"This is the most anemic communiqué that has ever come out of a US-North Korea engagement,"
declared
Sen. Bob Menendez (D-NJ), top Democrat on the Foreign Relations Committee.
His colleague, Chris Coons (D-DE) opined, "a summit like this on a whim and without proper preparation, wasn't really diplomacy, but entertainment."
House Minority Leader Nancy Pelosi (D-CA) said in a scornful statement, "In his haste to reach an agreement, President Trump elevated North Korea to the level of the United States while preserving the regime's status quo."
And there is lover of big government, socialist Bernie Sanders (I-VT),
who said
, "it's strange that Trump is more comfortable with authoritarians than democratic leaders."
Similar accusations by Democrats of anemic, hasty, whimsical and entertaining applied to President Ronald Reagan when he built up the American military to negotiate from a position of strength for peace with the Soviet Union, which Reagan accurately termed "the evil empire."
Reagan was a visionary, whose primary goal in the Cold War was summed up by his ridiculed quip, "We win they lose."
Reagan won the Cold War
without firing a shot because he outmaneuvered, out negotiated, and checkmated Russian Prime Minister Mikhail Gorbachev.
Trump is a visionary, much like Ronald Reagan, with the negotiating savvy and chutzpah that will bring light and prosperity into the darkness of Korean Communism. Let us all hope and pray Kim Jung Un opens that door of peace for his people and the world.
Dr. J's One Nation video on this topic here:
http://freedomproject.com/one-nation/693- democrats-respond-to-trump-meeting-with-north-korea
© Jake Jacobs
---
The views expressed by RenewAmerica columnists are their own and do not necessarily reflect the position of RenewAmerica or its affiliates.
---