Frank Maguire
The progressivist cuttlefish

By
Frank Maguire
July 23, 2010
Friday, February 20, 2009
Dateline: Arizona City, AZ
Regardless of the United States Constitution, regardless of federal law, regardless of the laws passed by individual states, illegal-immigration continues. Why? As the Romans put it,
"cui bono
?" Who is benefitting?
One doesn't have to be an Einstein to answer the question. Whether one is anti-illegality or pro-illegality, the answers are the same. But, words as generally understood must be used to pose the questions and answers mustn't be vague and equivocal
double-speak
.
Writer Joseph Conrad (
Lord Jim
, etc.) asserted with pointed irony since he well understood what is comprised in propaganda, "Words, as is well known, are the great foes of reality."
And perhaps my favorite skewer of the Propagation of the Faithful Liar, Eric Blair who wrote as George Orwell (
Animal Farm
,
1984
,
Homage to Catalonia
, etc.), very clearly described those who lie by dissimulation. "The great enemy of clear language is insincerity. When there is a gap between one's real and one's declared aims...." He equates the linguistic deceiver with the simile that those who deliberately dissemble are
"like a cuttlefish squirting out ink."
In 2009, before Arizona's SB-1070, I read that President Obama, on Spanish-speaking radio stations, assured Hispanics that they can expect major changes in the immigration laws of the United States. What should we expect will be the natural consequence of Obama's promise?
Let's imagine! If you were a citizen of Mexico or Central America living in those nations that are incapable of providing (or unwilling to provide, as long as the U.S. provides) jobs for their labor-force, how would you act upon hearing Obama's undefined assurances? Would you conclude that the time is right for you to enter the United States illegally, because the present federal and state laws will soon be overturned by this "progressivist," administration?
Should we expect a resurgence of illegal immigration into the United States?
Given the Obama administration's obvious dissimulations, we can expect a new surge in border crossings. Why not? Obama's promises of autocratic amnesty will certainly seduce many into risking defiance of extant U.S. and Arizona laws.
Let me close with one very recent experience. I was in San Diego with my wife and two grandkids who were scheduled to perform with other young musicians at a large worship center. All involved had been rehearsing for months.
I was seated by two attractive, young married persons who are Mexican by descent, and citizens of the United States. We had a very pleasant conversation and laughed at some of the creative, but sometimes odd, stylizations by the enthusiastic performers.
When my grandkids were introduced, they were presented as residents of Phoenix, Arizona. I, of course, cheered...adding "Awright Arizona!"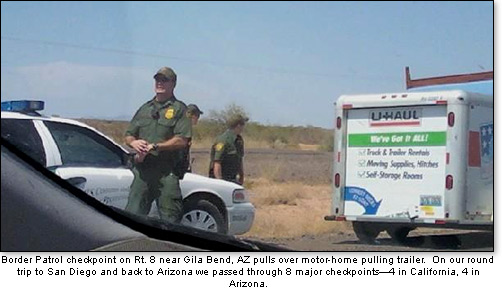 The woman beside me said,
"Oh, you're from Arizona
?" I said
"Yep, proud to live in

America
." She responded,
"Arizona isn't America any more. Want to live in America, move to California."
First, I was stunned; then, I was truly angry. I controlled myself, it not being the place to respond adequately to her
gormless
(Brit. For "stupid") remark.
I thought about this all night, and on the drive back to Arizona. I didn't get any happier. If her attitude is pandemic in largely populated places in our nation, then there is only one way such antagonism can be resolved. It's much too late for mere words and political tinkering by politicians whose world-views are as diverse as is the east from the west.
And it sure as Hades ain't by surrender to the
antinomian
, anti-Constitution spirit of the times! Other nations with traditions of liberality have slouched into
complaisance
under the delusion that "All
of this silly stuff will blow over."
We all know what "blew over" such nations, and it was most definitely not "silly stuff."
© Frank Maguire
---
The views expressed by RenewAmerica columnists are their own and do not necessarily reflect the position of RenewAmerica or its affiliates.
---