Frank Maguire
Thusalem the Leprechaun

By
Frank Maguire
December 18, 2010
© Arizona Desert Shamrock (1996)
From all of the extended Maguire clan, I wish the readers, the producers, and the writers of
renewamerica.com
the most Joyful and Blessed memorial of our Redeemers parturition from the womb of his mother.
Asimismo, desde me querida esposa Helena, "Feliz Navidad
."
This poem was written circa 1996 when I was playing piano in Scottsdale, AZ and writing a poetry column for the Celtic paper the
Arizona Desert Shamrock
. The original title of the poem was "Thusalem the Leprechaun," but when I thought of republishing it in renewamerica.com for this Christmas season, I decided to depict my great-grandson Liam Barnes as the mischievous Leprechaun because of the pixieish look on his face, which elicits a chuckle from his sister Averie. Liam and Averie live in Jacksonville, N.C. with parents Shannon Barnes
née
Maguire and Captain Donald Barnes, USMC.

I have also added the photos which make this allegorical poem more explicit. The second photo is of Big Al Foster with his beloved family. "Big Al" is a well known artist who lives in the Flint, MI area. I met him this year at Border's Books in Flint. His ice-carving team has won the international ice-carving trophy for two successive years. Al is about 6'6" and weighs, he told me, "about 300 somethin'."

Photo below to the left is my grandson William Bribiescas' family. He, his beautiful wife Tiana, and children (rear l. to r.) Braylon, Jada, (front l. to r.) Julian and baby Aaliyah. They live in the Chandler, AZ area.

To the right is "Matt" Allen holding his very sturdy — like his dad — son, Carter. "Matt" is married to my granddaughter Lauren Allen,
née
Bribiescas, and they have four beautiful children Logan, Carter, Cameron, and Olivia. They live in Phoenix.

And, at the bottom sit Lily and Jackson Knott, our twin grandchildren, who live with their loving parents Andrea Knott
née
Maguire, and Michael Knott, in beautiful Kirkland, WA. Lily and "Jack" seem to be discussing legs and bare feet?
Liam the Leprechaun
by Frank Maguire Dec. 2010
When Liam the Leprechaun applied for work as elf
(Which he did by not disclosin' that he was, in fact, himself)
He had a great antipathy for Santa's suit of red,
And schemed that over Ireland, it would be green instead.
The legend, as they tell it, is wondrous to know, that a
Leprechaun would take a job 'midst all that ice and snow.
And as the sleigh drew near to Erin's Isle that Christmas e'en,
The Leprechaun turned Santa's suit to green.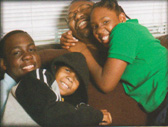 Isn't it amazin' — Santa's wearin' green.
Sure, it's the brightest Kelly green that ever I have seen.
'Tis a truly wondrous sight, this bearded emerald in his flight,
'N reindeer dashin' through the night, Santa's wearin' green.
When that Christmas evenin' Santa's helpers filled the sleigh,
Liam
crept into a sack where he could stow away.
For he had to be aboard the sleigh to cast his magic spell;
Behind the toys, the Leprechaun was hidden very well.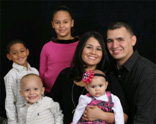 Liam
waited 'til old Santa was in sight of Ireland.
Then, out from the sack he crept, and waved his magic hand;
When the sleigh flew over Erin's Isle that Christmas e'en,
With a wink and a nod and a touch of his nose, he turned Santa's suit to green.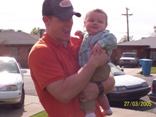 Now, Santa knew of
Liam's
plan, he'd known it all along.
He was certain the Leprechaun would see that what he'd done was wrong;
That color doesn't matter, be it gold or green or red,
For Christmas isn't in the eye, but in the heart, instead.
And when the journey ended, and the sleigh it had returned,
Liam
then apologized and told what he had learned;
"Color doesn't matter, be it gold or green or red,
For Christmas isn't in the eye, but in the heart instead."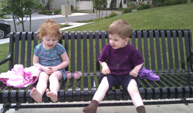 Isn't it the very truth that
Liam
has just said?
That love is not a color — not gold or green or red?
With Santa in that starry sky
Liam
changed, and we know why, for Christmas isn't in the eye — but in the heart, instead.
© Frank Maguire
---
The views expressed by RenewAmerica columnists are their own and do not necessarily reflect the position of RenewAmerica or its affiliates.
---