Frank Maguire
The famed Irish ponies of Connemara

By
Frank Maguire
March 9, 2011
Several years ago, in the spring of '97, my wife Helen and I, accompanied by my sister Anne Beauchamp, née Maguire, visited Connemara in western Ireland, the area that suffered most from English control and, thus, horrible destruction and starvation. It is a place of rolling hills and vestiges of ruination — a place of austere beauty and sad history. Here, we three sought for the famous ponies of Connemara.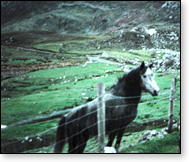 One historian wrote that the "ancestry of the Celtic pony can be traced, with accuracy, to the Ice Age...." Many years later, in 1588 A.D., the Spanish Armada was wrecked along the western coast of Ireland. Over 5000 Spanish lives were lost. Most drowned but many were also killed by British troops per order of Queen Elizabeth. Any Irish found attempting to aid the Spaniards were also killed as traitors to the Crown. It is said that only about 100 Spaniards survived.
Allegedly some Andalusian horses of southern Spain were able to swim ashore, eventually resulting in the mixing of the Spanish and Moroccan Barb horse breed with the native Celtic ponies.
The Connemara pony that Helen, Anne and I sought and found, we named "Cookie." My poem, here, explains why we chose the name for the gregarious equine.
"COOKIE"
We had watched the sun go down on Galway Bay the night before,
And we'd set-out on a foggy morn, due west, along the shore;
Through An Spideal and Indreadhan, through Costelloe and Screed.
We traced our memories back to Connemara.
The Fog who made his morning rounds was scattered by the Sun.
And at Maam Cross we paid respects to the cottage Kate had won.
Importunate Kate Danaher! Impetuous Sean Thornton!
And we left the quiet pair for Connemara.
The lean, dunned land lay ravished, with outcropped bones in view...
With rib-caged walls of weathered rock — the past's vestigial clue.
We turned upon a scanty Mammturk path to catch a sign
Of the fabled, hardy steed of Connemara.
Sure, there he stood, awaiting us, as if it were his stead.
And bade "Top of the morning," with a nodding of his head.
Then he petted us with nose and neck, and made us feel at home,
While we fed him cookies, there in Connemara.
Originally published in the Desert Shamrock,
Phoenix, AZ March 1997 © Frank W. Maguire
© Frank Maguire
---
The views expressed by RenewAmerica columnists are their own and do not necessarily reflect the position of RenewAmerica or its affiliates.
---