Frank Maguire
A father's letter to a daughter in emotional turmoil

By
Frank Maguire
March 28, 2011
Sweetheart,
I remember that event which you describe. Not everyone in this world can point to an example of having turned someone's life in the right direction. My kids are scrappers, and I like to believe that it is because I convinced them to be. We know what the right thing to do is, and we want to do it.
We are also human, so, like St. Paul who said
"The things I should do I don't do, and the things I shouldn't do, I do."
Now, that was the greatest evangelist in Christian history. He was conscientious to do what he knew his Lord desired, and he often failed at it. Where does that leave us? It leaves us as imperfect human beings who though we desire to do what is best, that which the Lord wants, we often choose to merely do what
we
want.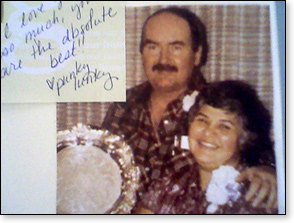 Dearest daughter, you are "afraid." The only persons living in this world who are not afraid are the brain-dead. There is reason to fear. How, then, do we reconcile this reality with the Lord's words, telling us, simultaneously, to not "fear," and that the "Fear of the Lord is the beginning of wisdom," and to work out our own salvation with "fear and trembling?"
Remember the story of the prodigal son? The son took off and the father let him go, knowing that the son had to find the truth and had chosen to do it his own way. The father knew it would not be easy, but knew that it was the only way his determined son would discover the realities of life. Did the father fear for his son? Sure! Probably every minute of every day! But! And this is the important "But." The father, while fearing, placed his faith in the Lord. He knew that God had His own plan for his life and for the life of his son, which made "fear" a non-productive emotion. Still, his existing fear was obvious as he constantly viewed the horizon, hoping as does a loving father, that his wayward son could be seen coming back to him.
We fear, each in his and her own way. And the most conscientious person fears most of all. All we can do is the best we can do while recognizing that we aren't superhuman. We have to make a realistic appraisal of ourselves and of the conditions that affect our efforts. The first appraisal is that if we demand perfection of ourselves and of conditions, we have already failed. Because perfection is impossible!
We have to say
"The way I am and the way things are, what is the best I can honestly do
," and then be determined to be honest in all that we attempt to do.
I do caution you that you shouldn't underestimate the complexity of any prescribed drugs. The medications prescribed for serious physical and emotional problems alter our body's metabolism. This means that they are very potent, even though compacted into a little tablet. Don't take medications or stop taking medications without the direct instructions from (a) your doctor...and also after discussing the drug with a pharmacist.
Remember, sweetheart, there is neither blame nor shame in emotional syndrome. Traumatic issues that produce anxiety seriously impact our emotions. When we find that we have difficulty in coping with the anxiety — when we get "panicky" — then we make the sensible choice to get assistance with it. And, when our difficulties are multifaceted we have to deal with them one at a time. If we pile everything together so that we are looking at an indecipherable mess, then we despair of making any sense of things. The result is "panic." How do I know this? I know this the same way that you know this. Probably the same way that Saul of Tarsus knew this.
Also, precious daughter, remember that we who love you, and need you as much as you need us, are always here to love you. This is what family is designed to do, despite what Man has done to distort that which God ordained. If we do it God's way, the family WILL be one of Love.
1st Timothy 5:8 — "If anyone does not provide for his relatives, and especially for his immediate family, he has denied the faith and is worse than an unbeliever."
Call me when you need to just talk, etc.
love
Dad
© Frank Maguire
---
The views expressed by RenewAmerica columnists are their own and do not necessarily reflect the position of RenewAmerica or its affiliates.
---