Frank Maguire
Ronald Reagan man of faith character and courage

By
Frank Maguire
June 26, 2012
"Freedom is never more than one generation away from extinction. We didn't pass it to our children in the bloodstream. It must be fought for, protected, and handed on for them to do the same, or one day we will spend our sunset years telling our children and our children's children what it was once like in the United States where men were free."
Ronald Reagan
In her autobiographical
"The Downing Street Years"
Margaret Lady Thatcher, former Prime Minister of Great Britain, wrote about the achievements of President Ronald Reagan. "The credit for these historic achievements must go principally to the United States, and in particular to Ronald Reagan whose policies of military and economic competition with the Soviet Union forced the Soviet leaders, and in particular Mr. Gorbachev, to abandon their ambitions of hegemony and to embark on the process of reform which in the end brought the entire communist system crashing down."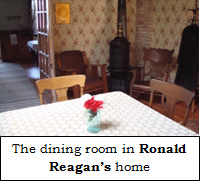 In 1993, in an article in the Wall Street Journal, the writer offered an opinion as to why Ronald Reagan did not receive the credit due to him for his incredible achievement, The reason was the progressivists' unwillingness to admit their infatuation with Marxist communism, in particular the Soviet Union, and their globalist fantasies. "(W)e have noted...that in the U.S., the intellectual and media establishment's embrace of risk-avoidance has become a national religion. Pragmatism is the religion's cardinal virtue."
Lady Thatcher's book and the WSJ article were published in 1993. We are now in 2012. In less than 20 years Reagan's great Cold War victory has been turned upside-down. The unrelenting Marxists can never quit because their
Weltgeist
— the "spirit" of their world — calls them to circumscribe personal liberty and to impose, by
Procrustean
means, a centrally controlled global governance "that defines
expectations
, grants
power
, and verifies
performance
."
Procrustes
— In Greek mythology was a mythical giant who was a thief and murderer; he would capture people and tie them to an iron bed, stretching them or hacking off their legs to make them fit.
(Photos by Frank Maguire)
© Frank Maguire
---
The views expressed by RenewAmerica columnists are their own and do not necessarily reflect the position of RenewAmerica or its affiliates.
---