Frank Maguire
Eric Holder: LONG ARM of the LAWLESS

"The Smoking Gun"

By
Frank Maguire
July 5, 2012
Friends,
This is different for me. My son Thom is an excellent artist. He read Selwyn Duke's most recent piece and was struck by the paragraph that you see inserted in that which I send. Thom would like his caricature to be used, freely, by anyone and everyone who can find use for it.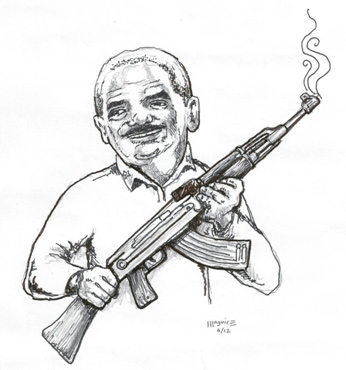 "And that is the face of expediency. It's like the Machiavellian leper character in the film
Braveheart
, who claimed that the ability to compromise — even with great principles at stake — makes a man noble. But it does not, and creating de facto nobility existing above the law makes a nation quite ignoble. Respect for station is no substitute for respect for rule of law."
renewamerica.com
July 2012 © Selwyn Duke
© Frank Maguire
---
The views expressed by RenewAmerica columnists are their own and do not necessarily reflect the position of RenewAmerica or its affiliates.
---