Frank Maguire
Monkey science: Ab Omnibus! "From one to all"

By
Frank Maguire
August 20, 2013
"What CAN the Christian do. It's getting more and more difficult to hide away and live our own life. All we want is to make a living and be left alone
.
I don't care what somebody else thinks is right for them, why can't they just tolerate me?"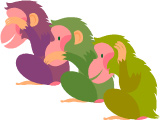 This is the
Three Monkeys Theology
.
"See no Evil, Hear no Evil, Speak no Evil
." Just live by tolerance and the "golden rule" and let live. Lucifer smiles and says "Very Good." But God hears and says "Toleration of Evil is a denial of Me, and it, itself, is the first lie of the Evil one, straight out of Pandaemonium."
Enough Three Monkeys and very soon you have 100 monkeys. There is a 100th monkey theory that is mysterious. Some scientists have observed in their studies of diverse monkey populations that new behaviors seen in monkeys (
or is it, more likely, "newly seen OLD behaviors?"
) seem to be, eventually, transmitted to all monkeys by some evolutionary leap.
Somehow!
I think these scientists have neglected something very important
, and I only cite the 100th monkey theory to make a point. That "evolution" doesn't just happen (like the "stuff" advertised on the infamous bumper sticker); evolving cultures are the effect of that which some creator causes
.
But with scientifically blessed-assurance, Darwin's True Believers assert Q.E.F.
Quod Erat Faciendum
! "Point proven, case closed!"
If you want a superb exercise that will have a salubrious effect on each muscle, tendon, ligament, and organ, especially the heart, get a load of this
Commissariat of Queffing Scientismists
compendium of theories that can't seem to achieve consensus. You will feel quite stimulated as you quake with mirth at this beauty, thought plausible by those who refuse to drive by Area 51 in the dark, fearing some metaphysical phenomena from out there.
http://serendip.brynmawr.edu/biology/b103/f01/web3/baird.html
"Another alternative to neo-Darwinism, is Brig Klyce's theory of strong panspermia. According to Klyce's theory of strong panspermia," microorganisms from space provide the new genes necessary for sustained macroevolutionary progress on Earth." In strong panspermia, evolution does not rely on random point mutations, but rather on horizontal gene transfer. Microorganisms (possibly bacteria) from space insert a gene into another organism. The new gene may give the organism the capacity to better adapt to its environment and thus evolve. Bacteria on Earth perform horizontal gene transfer in place of reproducing sexually."
Q.W.M. Quake with mirth.
As Matt Barber points out the strategy of the sexual-homo Military Ministers of Propaganda and National Enlightenment is to get one "monkey" to behave and this will be spread to 100, and then to all.
Ab omnibus
!

http://www.renewamerica.com/columns/mbarber/ 130819
The
Janus Face
plaque is ancient. It, as "January," looks back to the prior year and forward to the coming year.
But being "Janus faced" is also used metaphorically to mean "two faced." If we are to be disciples of Christ we must always look ahead to where God is directing us...to be a preserving "salt." We cannot turn back and look toward the Valley of Siddim – back toward Sodom, becoming a petrified pillar of salt good for neither preserving nor for savoring.
We must never let our heads be turned.
Lot's Wife's Pillar on Mt. Sodom, Israel
.The Jewish historian
Josephus
claimed to have seen the (true) pillar of salt which was Lot's wife. Its existence is also attested to by the early church fathers
Clement of Rome
and
Irenaeus
.
Frank Maguire
© Frank Maguire
---
The views expressed by RenewAmerica columnists are their own and do not necessarily reflect the position of RenewAmerica or its affiliates.
---