Frank Maguire
Collectivist-statist manifestos: public policies and declarations

By
Frank Maguire
February 23, 2014
Originally published July 29, 2010
"If this is the state of mind which makes us drift into a new world, nothing can be more urgent than that we should seriously examine the evolution that has taken place elsewhere.... Than that democratic socialism, the great utopia of the last few generations is...unachievable
." F. A. Hayek,
The Road to Serfdom
In my series of articles on Collectivist/Progressivism, I want to set the stage by quoting some pertinent material to equate that which is now called progressivism with the original foundations in Fascist, National Socialist (NAZI), and Communist manifestations of Socialist-Collectivist-Statism.
I will lead with the enthusiastic pronouncements of those who were (are) true believers in Socialist planning and advocates of collectivism instead of personal liberty. I will, later, quote some renowned "liberal" scholars who glorified State Planning until they actually lived amidst it and saw the nightmare incongruities. These scholars confessed their credulity in detail.
Not all quoted in this first grouping are of the
der Schwarmer
/zealot pro-Statism faction. A few of the quotes are from anti-Collectivists who quote partisans of Fascism.
•
"Socialists should be delighted to find at last a socialist (Mussolini) who speaks and thinks as responsible rulers do
." Fabian socialist George Bernard Shaw, quoted in
"Fellow Travelers of the Right," British Enthusiasts for NAZI Germany 1933-39
, Trinity Press, London (1980)
• "While visiting England, the American author Ezra Pound declared that Mussolini was
'Continuing the task of Thomas Jefferson
.'"
"Economic Fascism
," by Thomas DiLorenzo
•
"The Fascist conception of life stresses the importance of the State, and accepts the individual only in so far as his interests coincide with the State. It is opposed to classical-liberalism (which) denies the State in the name of the individual; Fascism reasserts the rights of the State as expressing the real essence of the individual
."
Fascism: Doctrine and Institutions
, by Benito Mussolini (Rome: Adriata Press, 1935)
•
"Indeed, it has been concluded that compulsory population-control laws, even including laws requiring compulsory abortion, could be sustained under the existing Constitution if the population crisis became sufficiently severe to endanger the society
."
Human Ecology,
John Holdren, Obama admin.director of the White House Office of Science and Technology Policy
•
"The Aryan is not the greatest in his mental qualities (but in his noblest form) willingly subordinates his own ego to the community, and, if the hour demands it, even sacrifices it....
(The individual)
"has not rights but only duties
."
Mein Kampf
, by Adolf Hitler Boston: Houghton Mifflin, 1943)
• "(Mussolini)
will be the great thing not only for Italy but for all of us if he succeeds. It is his inspiration, his determination, his constant toil that has literally rejuvenated Italy
."
Sol Bloom, Chairman of the House Foreign Relations Committee (1926), cited in
As We Go Marching
, by John T. Flynn (New York – Doubleday 1944)
• (The defenders of)
"18th century Americanism (are sure to become) the laughing stock of their own countrymen.... (The big stumbling block to the development of economic Fascism was) "liberal norms of law and constitutional guarantees of private rights
."
The Coming American Fascism
, by Lawrence Dennis, 1936.
• (In order to counteract the)
"untidy marketplace
," (an interventionist policy)
"must strive to integrate the full range of targeted policies – procurement, research and development...into a coherent strategy...executive agencies, the Congress...there is no integrated strategy to use these programs to improve the U.S. economy."
Minding America's Business
, by Ira Magaziner and Robert Reich (New York Vintage Books, 1982)
• After the appointment of Donald Berwick by Barack Obama,
Rep. Tom Price (R.- Ga.)
said
"The Democrats held no hearings, allowed no public testimony, and called no votes on this nomination, in short they made absolutely no effort to follow the regular, established process for confirming a presidential nomination
."
•(Government has a primary duty)
"to constrain decentralized, individual decision making...
(and)
to weigh public welfare against the choices of private consumers
."
New Rules,
by Dr. Donald Berwick (1996)
• (To reduce per capita patient costs)
"rational collective action (overrides) individual self-interest."
Dr. Donald Berwick, in
"Health Affairs"
May/June 2008
---
In his
The Road to Serfdom
, chapter entitled
"The Great Utopia
," F. A. Hayek cites many renowned students of culture and political history who headed, happily, down what they thought was the Road to Freedom only to discover along the way that the highway sign had changed to High Road to Servitude.
Hayek tells us that
"Observer after observer, in spite of the contrary expectations with which he approached the subject, has been impressed with the extraordinary similarity in many respects of the conditions under 'fascism' and 'communism.' While 'progressives' in England and elsewhere were still deluding themselves that communism and fascism represented opposite poles, more and more people began to ask themselves whether these new tyrannies were not the outcome of the same tendencies
."
When Max Eastman, "Lenin's old friend," actually lived amongst the Marxists he found himself compelled to admit that
"instead of being better, Stalinism is worse than fascism, more ruthless, barbarous, unjust, immoral, anti-democratic, unredeemed by any hope or scruple...best described as super-fascist
."
Eastman added that
"Stalinism is socialism in the sense of being an inevitable although unforeseen
(I.e., unforeseen by Eastman but not by others who described the indicators of any emerging despotism, e.g., John Stuart Mill, Alexis de Tocqueville, and Friedrich von Hayek)
political accompaniment of the nationalization and collectivization which he had relied upon as part of his plan for erecting a classless society
."
Several years before Eastman discovered the truth that all forms of collectivist-Statism called "progressivism" traveled the same Broad Way to Servitude, W. H. Chamberlin
"who in 12 years in Russia as an American correspondent, had seen all of his
(progressivist)
ideals shattered
."
Chamberlin admitted that
"socialism is certain to prove...the road not to freedom, but to dictatorship and counter-dictatorships, to civil war of the fiercest kind. Socialism achieved and maintained by democratic means seems definitely to belong to the world of utopias."
British writer/foreign correspondent F. A. Voigt spent years observing the development of socialist/collectivist/Statism concluded that
"Marxism has led to Fascism (Italian) and National Socialism (NAZI) because, in all the essentials, it is Fascism and National Socialism."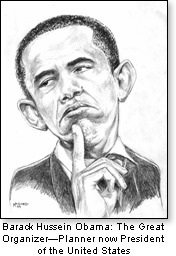 The highly regarded liberal writer Walter Lippman also arrived at the conviction that
"The generation to which we belong is now learning from experience what happens when men retreat from freedom to a coercive organization of their affairs. Though they promise themselves a more abundant life, they must, in practice, renounce it; as the organized direction increases, the variety of ends must give way to uniformity. That is the nemesis of the planned society and the authoritarian principle in human affairs
."
Peter Drucker, who taught at Bennington College and New York University before his appointment as professor of social sciences at the Claremont Graduate School, now Claremont College, wrote
"The complete collapse of the belief in the attainability of freedom and equality through Marxism has forced Russia to travel the same road toward a totalitarian, purely negative, non-economic society of unfreedom and inequality which Germany has been following.... Fascism is the stage reached after communism has proved an illusion, and it has proved as much an illusion in Stalinist Russia as in pre-Hitler Germany
."
Hayek summarizes the kindred manifestations of Fascism, NAZI National Socialism, and Communism.
"It is true, of course, that in Germany before 1933, and in Italy before 1922, Communists and NAZIs or Fascists clashed more frequently with each other than with other parties.

"They competed for the support of the same type of mind and reserved for each other the hatred of the heretic. But their practice showed how closely they are related. To both, the real enemy, the man with whom they had nothing in common and whom they could not hope to convince, is the liberal (classical-liberal) of the old type.... They both know that there can be no compromise between them and those who believe in individual freedom."

•
Stalin's Russia and the Crisis of Socialism
, Max Eastman (New York: W.W. Norton 1940)
•
Collectivism: A False Utopia
, W. H. Chamberlin (New York: Macmillan 1937)
•
Unto Caesar
, F. A. Voigt (New York: G. P. Putnam's Sons 1938)
•
The Government of Prosperity
, Walter Lippman,
The Atlantic
vol. 158 (Nov. 1938)
•
The End of Economic Man: A Study of the New Totalitarianism,
Peter Drucker
(New York: the John Day Co. 1939)
© Frank Maguire
---
The views expressed by RenewAmerica columnists are their own and do not necessarily reflect the position of RenewAmerica or its affiliates.
---