Frank Maguire
The granite character of Calvin Coolidge: A dad's thoughts about Mom's Day

By
Frank Maguire
May 4, 2014
"Though his list of accomplishments is impressive, Calvin Coolidge was perhaps best known and most respected by his contemporaries for his character.... The sleaze that characterizes much of American political life today was absent in his administration."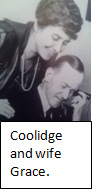 Prologue to
Coolidge an American Enigma
,
by Robert Sobel, Journalist, author and professor
of Business History at Hofstra University.
* * * * * *
Many years ago I wrote "A male can be a father but it takes a Man to be a Dad." Here in 2014, after almost 57 years wed to my beloved Helen Isabel Estevez de Guzman Maguire, I offer some thoughts on a Mommy's love, and how character is passed on by parents devoted to one another and to their progeny.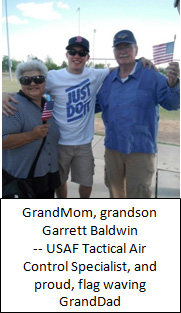 Helen is the source
proxima
for my understanding of C.S. Lewis' definition of "The Four Loves" that ideally affect every human being;
storge
(affection);
philia
(friendship);
eros
(romantic love); and
agape
(God's love. 1 Corinthians 13).
I offer a contrast that can be either somber or sublime. Cole Porter, in his classic hit song
"Love for Sale"
defined the former: "Let the poets write of love, in their childish way, I know every type of love better far than they. If you want the thrill, I've been through the mill of love; old love, new love, every love but true love."
In lofty comparison, in
Fiddler on the Roof
lyricist Sheldon Harnick depicted the love between Tevye and Golde in "But Do You Love Me?" Golde's response to Tevye's question is the perfect example of my axiom "True love has no past tense."
Back in my early college years one of my favorite professors, psychologist Kyle Esgate, lectured on "love and hate."
Dr. Esgate asked for thoughts gleaned from his lecture. I opinioned that "Hate, I believe, is not the fundamental source of apparently hateful behavior. The real source is fear because the essence of hatred is fear." My prof responded, "And I think you're correct."
This association is made in 1 John 5:8 "There is no fear in love, but perfect love casts out fear because fear is torment. He who fears is not made perfect in love." Here, I presume to counsel about that true love which is a Mom's love. No one in the world better knows that complete commitment to others – to one's husband and to one's children – than does Mom.
What have I learned from the love of my wife Helen, with whom God has blessed me? Love is the opposite of self-gratification. It is commitment. A commitment that brings Joy to husband and children (and in our case, grandchildren and great-grandchildren) and is a labor of love that blesses our nation.
On this Mother's Day, 2014, I desire that you who read this might live in hopeful Joy.
* * * * * *
"If the day ever comes when Jefferson's warnings are heeded at last, and we reduce government to its simplest terms, it may very well happen that Cal's bones, now resting unconspicuously (sic.) in the Vermont granite, will come to be revered as those of a man who really did the nation some service."
Written as a eulogy at Coolidge' death by H.L. Mencken
"Now you hear a lot of jokes about Silent Cal Coolidge (
not doing anything while president
), but I think the joke is on the people who make the jokes.... And, I have taken heed of that because if he did nothing, maybe that is the answer for the federal government."
Ronald Reagan
"(My father) always stuck to the truth. It always seemed possible for him to form an unerring judgment of men and things. I cannot recall that I ever knew of his doing a wrong thing. He would be classed as decidedly a man of character."
Coolidge: An American Enigma,
By Robert Sobel
"When president (Coolidge) drifted into a friendly relationship with Edmund Starling who was a member of the Secret Service assigned to the White House.... Sometimes he reminisced about his mother. 'I wish I could speak with her,' he said one evening. 'I wish that often.'"
Victoria Coolidge...died in 1885, probably of consumption, at the age of thirty-nine, when Calvin was twelve years old." As dedicated as Coolidge was to his father, he wrote that he felt the death of his beloved mother to have been the greatest of tragedies and the most sorrowful and life-altering of experiences. (
ibid
.)
© Frank Maguire
---
The views expressed by RenewAmerica columnists are their own and do not necessarily reflect the position of RenewAmerica or its affiliates.
---