Frank Maguire
TRUMP trickery, IRS incompetence, or...?

By
Frank Maguire
October 5, 2016
The New York Times alleges (from
RenewAmerica.com
10/3/2016) that
"Donald Trump may have legally avoided paying federal income taxes for as long as 18 years because of a $916 million loss he declared on his 1995 tax returns from his failed business dealings...
."
What can we assume from this allegation? We can assume that Trump filed income tax returns for every year from 1995 to the present. We can assume that IRS agents scrutinized his returns. We can assume that the IRS found that Trump's claimed losses declared on his 1995 returns were legitimate. And we can assume that by the laws of the IRS it was perfectly legal how Trump's losses were determined, and how Trump's accountants met all the legal requirements.
Finally, then! We can assume that Trump is not guilty of any illegalities subtly implied by the New York Times...and that the Times innuendo is entirely politically motivated.
So, what else is
news
. An analogy: Black Bears make a mess by invading the garbage cans in camping sites. The why of this is very simple. Black Bears do what it is natural for them to do. Juxtaposing this analogy to the New York Times, the Times is only doing what the Times does naturally.
What Donald Trump did was to make speculative investments. He made these investments to help grow the economy, and to bring profit instead of loss to his corporations. He didn't scheme that to lose money would be better for his companies in the long run. What Donald Trump did in a free-market economy is called "capitalism." In capitalism, investors risk lots of their own wisely earned money speculatively after analyzing the risks involved. Sometimes they win and sometimes they lose. This is the nature of capitalism.
Let me do a little speculating here. How does capitalism differ from fascism and socialist progressivism?
First, capitalists use their own money. Fascists and socialist-progressives use the tax-payer's money. They justify this by doing what the likes of Benito Mussolini did...by saying that everything...all properties including money belongs to the State.
Mussolini said that the State knows best because it appoints the most altruistic and schooled experts to make all of the State's investments. So, regardless of what kind of a pig's breakfast the State makes by porkishly spreading the tax-payer's money around, the State never has to explain what has happened to, let us say, $916 million dollars.
Quis custodiet ipsos custodes
, There is a Latin phrase taken from the Roman treatise
Satires of Juvenal,
written around AD 100, variously translated as "Who
watches
the watchmen," "Who
watches the watchers
," "Who will guard the guards," "Who shall watch the
watchers
themselves," or something similar.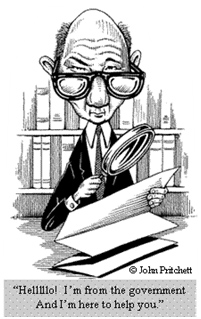 The charismatic, and sometimes defensively caustic Donald Trump is a wealthy and powerful fellow. But how powerful and wealthy is he in comparison to the State? Thus, for those who angrily berate the single capitalist Donald Trump, seeing him as almost as dangerous as their most dangerous enemy – "global warming" – to whom do you imagine Juvenal was referring in his
Satires,
Donald Trump who is being watched by such as the radar-eyed New York Times and millions of political opponents of Mr. Trump, or that oleaginous and casuistically smarmy-army...the watchers of Donald Trump?
I'm not a betting man, but if I had to speculate with the American tax-payer and citizen as to the answer of my query in the prior paragraph, I would put my money on the latter. Naturally I wouldn't earn much on my bet because the odds are that the American citizen-taxpayers would be betting with me and not against me.
© Frank Maguire
---
The views expressed by RenewAmerica columnists are their own and do not necessarily reflect the position of RenewAmerica or its affiliates.
---