Frank Maguire
Altar-ing our self: the passion for destruction

By
Frank Maguire
October 22, 2016
(Originally published April 14, 2011)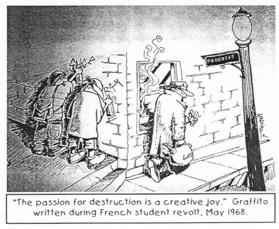 There is a human tendency that even when I was a kid in Dorchester, MA I couldn't comprehend. It is the tendency to deny what is real and that which is clearly in process of becoming actuality, despite the evidence of our senses. It is a form of lying that requires, firstly, that one lie to one's self.
I consider denial to be a metaphor for narcotic. Every human pass-time that is a product of obsession makes use of the narcotic of denial. We deny sin. We deny evil. We deny Hell. We deny Satan. And, ultimately, we deny God. Such denial was crucial to Julian Huxley who said that he was an atheist-materialist Darwinian because to believe in a God of creation meant that he had to forego the lifestyle that he favored...his unrestrained sex life.
We have an "entertainment" industry which gives us, increasingly, the most foul and salacious fare. It gets worse in quantum leaps from week to week. I refuse to believe that any reasonable person can be entertained by such degrading filth. We are inured to it because we are aided by it in our need to deny. Our brains are rewired. We can't think or reason because of the disabling static that interferes with our ability to achieve rational integrity.
The word that best describes this prior paragraph is "amusement." We are not entertained in the way of the French concept
accueillir
: v. (to) greet, host; receive, welcome; accommodate. To "greet, host, receive, welcome, accommodate" implies an active thought process, not a negation of thinking.
Rational activity is not engaged-in when we are passively amused. The denotation of the word "muse" is "to think." The negating prefix "a" means "to not." So, A-muse means to not think.
When God is removed from our thoughts, we dare not think – because to do so imposes despair and hopelessness. When a culture reaches this stage what do the people do? We do what we now see is being done in America. We escape into pan-sexual licentiousness,
porneia-
prostitution and perversion; into substance use and abuse; into mind-numbing amusement; into false prophets and false gods; into cul-de-sac philosophies; into political fantasies which promise happiness and security while stealing our freedom and humanity, thus making us into subjects and slaves, not citizens.
And all of this destruction because Man wants to deny the God of Creation and to raise up an altar to his own self-worship.
© Frank Maguire
---
The views expressed by RenewAmerica columnists are their own and do not necessarily reflect the position of RenewAmerica or its affiliates.
---