Tom O'Toole
Voris, Vox Cantoris, and the Vatican: a prayer for the elephant in the room

By
Tom O'Toole
February 22, 2015
When
Michael Voris
speaks, orthodox Catholics usually listen, and as one of the "Voris chorus," I know that when
two
of his talks appear on the same topic in the space of days, it's not only something worth listening to, but worth writing about. In this case, Michael spoke about the absurd (and possibly scary) situation of rogue Vatican spokesman, Father Thomas Rosica's, threatened lawsuit against traditionalist Catholic Canadian blogger, David Anthony Domet. Although Domet's blog,
Vox Cantoris
, merely reported the truth about Rosica's highly heterodox statements and tweets, the priest's lawyers are threatening to sue Domet for Catholic defamation of character. And, as if there are not already enough questionable Catholic characters in this story, Voris alludes to another one who may soon have to enter it, which has the thinking faithful singing, "Say it ain't so, Pope Francis!"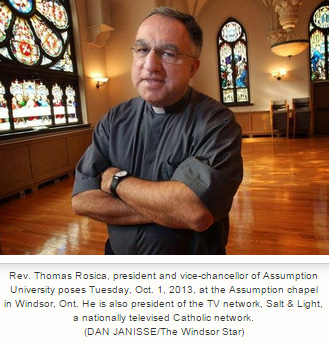 To sum up the absurdity, Rosica, who has long been known for speaking publicly in support of divorced and civilly remarried Catholics receiving Holy Communion (among other mistruths) recently re-tweeted African Archbishop Charles Palmer-Buckle's dissent of this Catholic dogma. This proved to be the last straw for both Domet and Rosica, for it was after David's blog denunciation of this social media signal of agreement, that Goliath, I mean Rosica, threatened legal action if Domet didn't apologize AND remove at least
nine
Vox Cantoris blog postings that also mentioned the suddenly-sensitive Vatican spokesman.
For the record, I don't agree with everything Domet writes; I think David goes (way) too far when he states, "The Second Vatican Council and the Popes since have confused us in the message...[of] false ecumenism. They have allowed millions of souls to perish in Hell...[by having] prayed in a mosque or invited prayer with [Muslim] leaders." Certainly, false
interpretations
of Vatican II have led many a Catholic astray, but I believe that John Paul II's (make that SAINT John Paul the GREAT's) many missionary ventures brought millions to God rather than damned them. But, having had a hand in exposing dangerous and/or abusive priests myself, I fully support his exposure of Rosica's errors, and am happy to see Domet not buckling under the threat to remove the Palmer-Buckle post or any of the others involving the priest. If anything, the lawsuit shows Rosica's true character, for it is precisely the fact that this supposed lover of ecumenism doesn't dialogue with Domet about his dim view of Vatican II (similar to the views that have led others to leave the Church) but instead sues him for the very views that show he is still
very
loyal to Rome that makes the case against the doubtful Thomas.
But back to Voris' analysis. As Michael accurately reminds us, "[If] White House Spokesman Josh Earnest said the US needs to attack the Middle East," he would be forced to resign by the next day for stating personal opinions contrary to the president; yet Rosica, who constantly expresses "opinions" contrary to papal teaching, is allowed to stay. Forget for a second the rather chilling conclusion that the pope's underling appears to be silencing only conservative rather than liberal bloggers, something that appears to be happening in both the United States and Domet's native Canada as well. The even scarier idea that Voris states is that by Rosica being allowed to continue as Vatican spokesman, it gives the impression that the pope "is either ignorant of his minions and their doings or he is supportive of their mouthings." Enter the elephant.
While Voris is not about to examine the elephant in the room that Pope Francis is (secretly?) supportive of Rosica's liberal leanings, it does leave one to wonder. True, it is not as simple as, say the regrettable saga of the Reverend John Jenkins, president of Notre Dame, whose laughable defense of his defiance of both pope and bishops at Our Lady's University makes his
apostasy
a rather open and shut case. The Roman Catholic Church is a much bigger entity than the University of Notre Dame, and remember that even St. John Paul II did not discover the diabolical deeds of "friend" and Legion of Christ founder Marcial Maciel, and Paul VI did not detect "the smoke of Satan" in the works of friends such as
Father Theodore Hesburgh
or
Archbishop Rembert Weakland
until it was too late.
But with Rosica not doing his damage in far away countries but right under the pope's nose, it does give the impression that either the inmates are running the asylum, or the warden is winking in approval. Like many others, I winced at the pope's washing of women's feet on Holy Thursday, his "Who am I to judge?" comment, and his seeming de-emphasis on "polarizing" topics such as abortion (to name but a few), but I was willing to go along with those who said it was part of his grand plan of evangelization, similar to the bend-but-don't-break defense in football. But when your own quarterback is going against the game plan and you leave him in, you lose (your soul) even when you win...the game...or the whole world...
As the story (or at least, this chapter of it) ends, we must remember to pray for all the cast members; that Domet stands firm and doesn't lose hope in the One, Holy, Catholic, and Apostolic Church, that Rosica resigns, or at least recants, and that Voris has both the cash and courage to continue his unique mission to both renew and strengthen the Bride of Christ. But mostly at this moment, we must remember to pray (and as Mary Bailey told her children in
It's a Wonderful Life
, "pray very hard!") for Pope Francis. In fact, it may be time to ask his and your guardian angels to pray real hard too.
© Tom O'Toole
---
The views expressed by RenewAmerica columnists are their own and do not necessarily reflect the position of RenewAmerica or its affiliates.
---