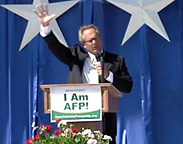 Jake Jacobs
JESUS vs. JIHAD: Historical FACTS vs. PC's feckless feelings!

By
Jake Jacobs
December 15, 2015
I am sick and tired of all the politically correct feelings about Islam and the unwillingness or inability to say it like it is! I don't give a rat's
tuches
about their uptight feelings and ridiculous rhetoric when it comes to
Militant Islam's WAR on Western Civilization and Christianity.
For almost thirty years of my academic career I have had to listen to the bizarre academic and political world present Islam as if it was a paragon of virtue and a major contributor to Western Civilization and Democracy. It isn't and it didn't.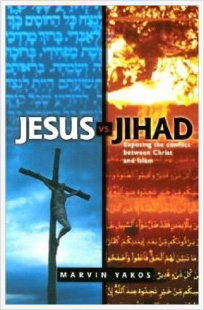 Hogwash and Balderdash with Poppycock sprinkled on top!!!
PC feelings are lies predicated upon a presupposition that believes ALL religions and cultures are equal and to be respected in our so-called multicultural world. Not all cultures are equal in valuing life and liberty.
While Jesus calls us to love our neighbor he does not call us to be stupid, naive and hoodwinked into believing that a lie is the truth and that
Mohamed's militant-violent Islam is peaceful
. It was not peaceful when Mohammad created Islam and as followed by his early disciples and it is not today by his militant disciples who take his
jihadic
words and actions seriously. Study the Quran, the Hadith, Sharia Law, Islamic history and theology and discover a world full of violence, theocratic totalitarianism, military conquests, abuse of women etc. etc.
Mohammad is THE paradigm of that violent world.
Slavery existed in the birthplace if Islam until 1962. There are no Churches and Synagogues in Saudi Arabia and there never will be. Signs are plastered all over the outskirts of the cities of Mecca and Medina warning non-Muslims to stay away. There is no multicultural respect in Arabia only Islam.
While many in the politcal Left are in a rhetorical politically correct alliance with Islam, far too many on the politcal Right play the Left's ridiculous rhetorical game as they too say inane and historically-theologically stupid statements like:
"The peaceful religion of Islam has been hijacked by terrorists."
From Al Qadeda to ISIS and Boko Haram et.al. they have not hijacked anything Mohammad and his early followers-Caliphs-Imams have not already done and or ordered
Jihad Warriors
to do in their lifetimes.
Let's compare and contrast
presuppositional truth claims
which are rejected in the post-modern academic world of relativism. That world not only denies absolute truth but denigrates Judeo-Christian Civilization while it venerates multiculturalism-except Judeo-Christian culture. According to Christian orthodoxy and history
Jesus is God who made the Universe
and as God the Fathers' only begotten Son, Jesus redeemed- saved sinners at Calvary. Jesus was murdered. 11 of the 12 Apostles were murdered as they refused to stop telling the world about the Good News of the God-Man Jesus. Early Christian history attests to the FACT that thousands of Christians were martyred for their absolute-exclusive truth claims as they peaceably loved their neighbors.
This is not admitted in our PC-multicultural classrooms today but there is a
presuppositional truth claim CLASH
between historic-theological Christianity and Islam. This use to be taught but is no longer.
According to Islamic orthodoxy and history Jesus was NOT God but merely a man who did NOT die on a cross to redeem the world. Islam proudly claims that their "god" Allah did not have a begotten Son. Somebody's lying. Mohammad was a conquering Military leader who initiated dozens of offensive battles to violently advance Islam at the expense of Jews, Christians, women etc. etc. There is no reconciling these black and white differences. Mohammad threw his
jihaic gauntlet
down 1400 years ago and the world has had to deal with that Islamic violence ever-since.
During the dark days of WWII, when the demon Nazi's where bombing Great Britain, an atheist turned Christian, through the influence of the great Catholic author J.R.R. Tolkien, C.S. Lewis, gave a series of BBC broadcasts that helped Brits deal with the pain and suffering that was inflicted upon them by Hitler's madness. Out of those broadcasts came the classic book,
Mere Christianity
. Please read one of the greatest books ever written in the 20th century. From this classic is is one of the greatest statements on Jesus ever penned, memorize it:
"I am trying here to prevent anyone saying the really foolish thing that people often say about Him: I'm ready to accept Jesus as a great moral teacher, but I don't accept his claim to be God. That is the one thing we must not say. A man who was merely a man and said the sort of things Jesus said would not be a great moral teacher. He would either be a lunatic – on the level with the man who says he is a poached egg – or else he would be the Devil of Hell. You must make your choice. Either this man was, and is, the Son of God, or else a madman or something worse. You can shut him up for a fool, you can spit at him and kill him as a demon or you can fall at his feet and call him Lord and God, but let us not come with any patronizing nonsense about his being a great human teacher. He has not left that open to us. He did not intend to."
This is THE bottom line.
Our Republic under God believes that JESUS is God, THE Creator of the Universe, the Creator of Mohamed
. That is a clear cut black and white TRUTH claim. Our Nation, our leaders, our institutions need to deal with that reality. During WWII, FDR, Churchill, our leaders, our institutions did not shy from that reality as they called WWII a War to preserve Christian-Western Civilization versus the BLACKNESS of Nazism and Imperial Japan.
Our leaders today are feckless with feelings not willing to deal with the BLACK FACTS of Mohammad's Islam.
Today Western Civilization and Christian presuppositions are under assault from a number of internal and external influential institutions, in the name of diversity, tolerance and truth. These institutions are profoundly narrow-minded and uniform in their disdain of Christ and Christianity. They are intolerant of Western Civilization's contribution to Life and Liberty and proud in their perpetuating, indoctrinating and disseminating the denial of Genesis 1:1 and John 3:16. They sadly contribute to a culture of degradation and death.
Yes there are millions and millions of Muslims who have
cognitive dissonance
with Mohammad or do not understand Mohammad's militant character and nature. Badly and sadly today millions do, as they militantly following Mohammad's example.
During this CHRISTMAS Season of 2015 A.D., Year of Our LORD Jesus, let us be as wise as a serpent and harmless as a dove as we share the glorious Good News of who JESUS really is. But let us also have the 2 Swords that Jesus permitted Peter to have, as we Praise the LORD and pass the ammunition of Truth and Knowledge that gives use the ability to discern and differentiate the FACTS from the foolishness of politically correct FEELINGS that hamper our willingness to preserve Life and Liberty here on Earth.
© Jake Jacobs
---
The views expressed by RenewAmerica columnists are their own and do not necessarily reflect the position of RenewAmerica or its affiliates.
---