Marielena Montesino de Stuart
The impostors: Jesuits agree to pay settlement of $166.1 million to survivors of sexual abuse

Cleaning up the Roman Catholic Church, one impostor at a time

By
Marielena Montesino de Stuart
March 27, 2011
The Society of Jesus (also known as the Jesuits) has agreed to pay
$166.1 million
to hundreds of Native Americans and Alaska Natives who are sex abuse survivors from schools run by a Jesuit order in the Pacific Northwest — Oregon, Washington, Idaho, Montana and Alaska.
The full name of the order is
Society of Jesus — Oregon Province
.
And what are Church officials doing while this moral disaster is taking place in the Church?
For one, they are running very expensive long ads on CNN television, asking Catholics to go back to the Church. CNN? Interesting.
Yet, not a word is mentioned in those ads about the pain and suffering inflicted on victims who were sexually abused by pederasts and pedophiles in the Church.
While the Roman Catholic Church continues to pay hundreds of millions of dollars in settlements to survivors of sexual abuse, it appears that Church officials still do not want to confront the truth of the evil that lies within.
Case in point:
The Office of Media Relations for the United States Conference of Catholic Bishops (USCCB) published a document on March 11, 2011 providing an overview of an ecumenical conference held in Berkeley, California, from February 28 to March 1.
The title of the USCCB document?
"Anglican-Catholic Dialogue Looks at Moral Discernment, Homosexuality"
What exactly is there to "dialogue,"
"
look at," and "discern" — when it comes to homosexuality?
Bishop Ronald P. Herzog of the Catholic Diocese of Alexandria, Louisiana offered the following statement during the conference:
"I have been impressed by the way in which both sides have been listening to each other with a spirit of patience and generosity as we search for common ground on these vexing moral issues."
"Vexing" moral issues?
A philosophical gathering of this nature is a manifestation of arrogance and indifference to the moral crisis in the Church.
What about looking at the fact that the Church has embraced and protected pederasts and pedophiles for decades?
What about discerning that allowing individuals with deviant sexual behavior to become part of the Church's ministry is wrong and evil.
I decided to pay a visit to the
Society of Jesus — Oregon Province
website
, and this is what I found , featured in the middle of their home page.
FACEBOOK: "Did you 'Like" us yet...?"

TWITTER: "Gonzaga Bulldogs: Royce Bolinger hits a one out of two run double..."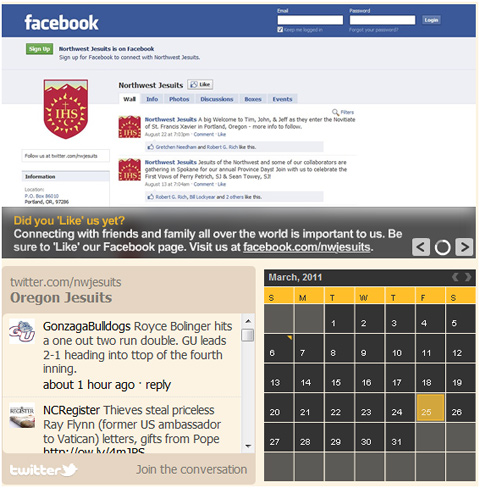 On the left column of the home web page I found several dead links, including one titled "Letter from the Provincial." Yet, the link asking for money worked perfectly well. On the bottom right I found a disclaimer of "safe environment" with a rainbow emblem.
On a day like this, when we are again faced with the magnitude of the devastation caused by sexual abuse in the Church, at the very least the Society of Jesus- Oregon Province should place a black screen on their website, with a public apology to the victims.
As long as Roman Catholic Church officials continue down this sinful and arrogant path of destruction, no amount of television ads will bring back those whose lives have been shattered by the deviant behavior that has been allowed to run rampant in the Church.
But Church officials should be aware that while pews are emptying, there are still those who will defend the Eucharist, and will make sure that every impostor is removed from sacred grounds.
Related Article:
Tom Monaghan's "Invaluable" Cardinal Bevilacqua Accused by Grand Jury of Covering Up Sexual Abuse of Children
Homosexuality and the New World Order
© Marielena Montesino de Stuart
---
The views expressed by RenewAmerica columnists are their own and do not necessarily reflect the position of RenewAmerica or its affiliates.
---